art/design
ワディントン・カスット・ギャラリー
Waddington Custot Galleries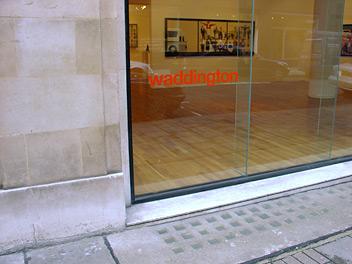 「ワディントン・カスット・ギャラリー」は、イラストレーション、ドローイング、彫刻などのモダンアートと現代アートを扱うギャラリーだ。Waddington Custot Galleries deals in modern and contemporary works of art – painting, sculpture and works on paper.
作品は、パトリック・コールフィールド、ジーン・ダブフェット、ジョルジオ・デ・キリコ、アンリ・マティス、ジョアン・ミロ、ヘンリー・ムーア、パブロ・ピカソ、ファウスト・メロッテ、ドナルド・ジャッド、またフランシス・ピカビアなど主に20世紀のアーティストが中心だ。また、 クレイギー・エイチソン、ピーター・ブレイク、イアン・デーベンポート、アクセル・ヒュッテ、バリー・フラナガン、ピーター・ハリー、ミンモ・パラディーノ、アントニー・タピエス、ウィリアム・ターンブル、ビル・ウッドロウ、ジョセフ・アルバース、ミルトン・アベリー、パトリック・ヘロンなど、数多くの現代作家の作品も扱っている。



コレクションの展示の間の期間では、定期的に所属アーティストの個展も開かれる。



Waddington Custot Galleries
住所:11 Cork Street, London W1S 3LT
時間:月〜金 10:00〜18:00/土曜 10:00〜13:30(7月・8月以外)
TEL:+44 0 20 7851 2200
mail@waddingtoncustot.com
http://www.waddingtoncustot.com



Translation: Tatsuhiko Akutsu
A substantial inventory is held of work by major twentieth-century artists including Patrick Caulfield, Jean Dubuffet, Giorgio de Chirico, Henri Matisse, work by Joan Miró, Henry Moore and Pablo Picasso, Fausto Melotti, Donald Judd and Francis Picabia. Waddington Galleries represents a number of contemporary artists from Great Britain, Europe, and North, America including Craigie Aitchison, Peter Blake, Ian Davenport, Axel Hutte, Barry Flanagan, Peter Halley, Mimmo Paladino, Antoni Tàpies, William Turnbull, and Bill Woodrow, and the estates of Josef Albers, Milton Avery and Patrick Heron.



Regular one-man exhibitions of gallery artists are interspersed with shows of work from inventory.



Waddington Custot Galleries
Address: 11 Cork Street, London W1S 3LT
Open: Mon-Fri 10:00-18:00 / Sat 10:00-13:30 (except late July and August)
Tel: +44 0 20 7851 2200
mail@waddingtoncustot.com
http://www.waddingtoncustot.comWaddington Custot画廊
地址:11 Cork Street, London W1S 3LT
时间:周一至周五 10:00-18:00/周六 10:00-13:30
电话:+44 0 20 7851 2200
mail@waddingtoncustot.com
http://www.waddingtoncustot.com
<!- Rubicon OS Player --> <!- /Rubicon OS Player -->