art/design
クラフト・カウンシル・ギャラリー
Crafts Council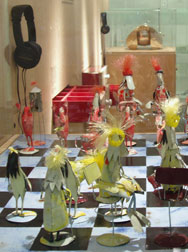 「クラフト・カウンシル」は、「職人技よって作られる作品を奨励し、大衆により利用しやすい形で提供していく」を目標に、1971年に職人技国のクラフト・エージェンシーとして設立され、The Crafts Council was established in 1971 as the national agency for crafts and was granted a Royal Charter in 1982. 1982年には勅許を与えられた。約1年半から業務の再検討を行い、その結果として、より国の事業所としての側面と、地域的な存在感を強くする方向にシフトしている。次のヴィジョンは、「イギリスを現代の工芸を作り、見て、集める世界の中心としてのポジションを確立すること」だ。「クラフト・カウンシル」は、今後もイギリスの工芸のハブとして発展していくだろう。



Crafts Council
住所:44a Pentonville Road, Islington, London N1 9BY
TEL:+44 0 207 806 2521
exhibition@craftscouncil.org.uk
http://www.craftscouncil.org.uk



Translation: Tatsuhiko Akutsu The object of the Crafts Council is 'to advance and encourage the creation of work of fine craftsmanship and to foster, promote and increase the interest of the public in the work of craftspeople and in the accessibility of those works to the public.'



Over the last 18 months the Crafts Council has undergone a review of its operation. As a consequence of the review it intends to increase its national profile and regional presence. It is focussing on a more strategic approach working in partnership with other organisations and agencies to achieve greater impact and making it an effective leader in the field.



The Crafts Council's vision for the next period is to position the UK as the global centre for the making, seeing and collecting of contemporary craft. Central to this vision is increasing the breadth and depth of the sector and its audiences and the Crafts Council will seek to make itself the UK's first port of call for craft.



Please note the Library and Resources Centre is now closed for refurbishment and will re-open in 2007. Our Library and Resource Centre enquiries service is still available during this time.



Crafts Council
Address: 44a Pentonville Road, Islington, London N1 9BY
Tel: +44 0 207 806 2521
exhibition@craftscouncil.org.uk
http://www.craftscouncil.org.uk手工艺理事会画廊
地址:44a Pentonville Road, Islington, London N1 9BY
电话:+44 0 207 806 2521
exhibition@craftscouncil.org.uk
http://www.craftscouncil.org.uk
<!- Rubicon OS Player --> <!- /Rubicon OS Player -->