art/design
UMA G
UMA G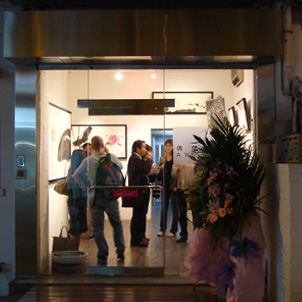 Sometimes it could be tiring being surrounded by buildings in the city, but once you step into UMA G, it will immediately bring you to a completely different atmosphere絶えずビルに囲まれた都会の生活は時に疲れるもの。しかしひとたび「UMA G」に入れば、たちまち違う雰囲気があなたを包み込んでくれる。UMA Gはワンチャイ(灣仔)のセント・フランシス通り(聖佛蘭士街)にある。セント・フランシス通りにはポルトガルの文化遺産があり、このギャラリーの名前は、そんなこの街の背景に深く影響を受けている。



「UMA」とはポルトガル語で「1」という意味、そして「G」はギャラリー(Gallery)、大地(Ground)そして集い(Gathering)を表している。UMA Gという名前は、展示、会合、レクチャー、そしてケータリングをひとつの場所に集めたこのユニークな場所にぴったりなのだ。



UMA Gは、地元のアートと文化のプロモーションへの意識が高く、この場所でより多くの人々がアートに触れる機会を得ることを目指している。たくさんの素晴らしい展示がUMA Gでは開かれる。
ラウ・チン・ピンの写真展「タイム・エクスポージャー」など地元作家の個展だけでなく、スペイン人アーティスト、ルシア・アルバレスの個展や中国人アーティスト、ウー・イーミンの絵画展など海外からの素晴らしい作品も紹介している。



展示のほかに、UMA Gではアーティストたちを招いて彼らの思想を一般の人々と共有するセッションも開催する。さらに、文化に関する公開講座やプライベートな会合なども。間違いなくここは、文化とアートの発展のために完璧に整えられた場所なのである。フレキシブルな空間とユニークな展示。訪れてみる価値がある。
UMA G
住所:G/F, 12 St.Francis Street., Wanchai, Hong Kong
時間:10:00〜19:00(日・祝日定休)
TEL:+852 2528 3669
info@uma-g.com
http://www.uma-g.com



Text: Justin Tsui
Translation: Shiori Saito. UMA G is located on St. Francis Street in Wan Chai.



Since St. Francis Street has Portuguese heritage, the name of UMA G is deeply inspired by the street's background. "UMA" means one in Portuguese, "G" stands for gallery, ground, and gathering. UMA G is absolutely the most appropriate name to describe this unique art place, which combines exhibition, gathering, lecture, and catering in one space.



UMA G focuses on promoting local art and culture. They aim to use the space to target more people for approaching art. There have been many fabulous exhibitions have shown in UMA G. Not only the local artists are included, such as Mr. Lau Ching Pingユs photographic exhibition, but also some excellent works from the foreign artists, such as Spanish artist Lucia Alvarez's show and Chinese artist Wu Yiming's paintings exhibition.



Aside from exhibitions, UMA G also invites artists to share their philosophy of art with the public in sharing sessions. In addition, you can find cultural public lectures and private gatherings in UMA G. There is no doubt that this art space has been fully utilized in order to promote art and culture.



The flexible space with its unique exhibitions of artists in UMA G surely makes this great art place worth a visit.



UMA G
Address: G/F, 12 St.Francis Street., Wanchai, Hong Kong
Open: 10:00-19:00 (Closed on Sunday & Public Holidays)
Tel: +852 2528 3669
info@uma-g.com
http://www.uma-g.com



Text: Justin Tsui



UMA G
地址:香港湾仔圣佛兰士街12号地下
开放时间:10:00-19:00(星期日・祝日休息)
电话:+852 2528 3669
info@uma-g.com
http://www.uma-g.com
<!- Rubicon OS Player --> <!- /Rubicon OS Player -->