others
ブエノスアイレス国立図書館
The National Library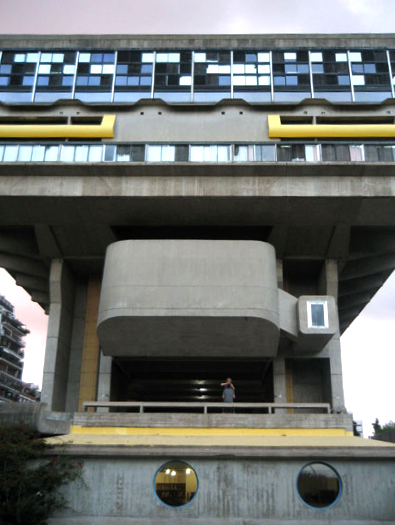 If you think you can spot a spacecraft on the wide and elegant Libertador Avenue and Austria Street you are wrong: it is the National Library周りを文化的施設に囲まれた優雅なリベルタドール大通りとオーストリア通りに位置する「ブエノスアイレス国立図書館」は、その建物自体がユニークな構造となっており、"図書館へ行く"という、どこか明るさとは離れた印象を持たれがちな行為に光を当ててくれる存在となっている。



その思わず目を引く、あたかも宇宙船の様な現在の新しい図書館は1992年、クロリンダ・テスタ、アリシア・D・カッツァニーガ、フランシスコ・ブルリッチの3人の建築家のチームワークにより生み出された。図書館は2層構造となっており、下層には貴重な資料などを閲覧出来る部屋が集まっている。上層には400人を収容できる中央閲覧室や、50万冊を数える新聞や雑誌のバックナンバーが所蔵されている書庫もある。



建物は木々に囲まれ、段差のない水平な地面が続き、理想的なテラスも設置されている。また、建物の大部分にガラス窓が取り付けられているので、本を読みながら、もしくは勉強しながらも外の美しい景色に眺め入ることが出来る。



この図書館では定期的にビジュアルアートの展覧会や様々な分野の集まり、会合が行われており、普段は落ち着いて集中して勉強できるその理想的な環境を求めて多くの学生で溢れている。
館内には軽食コーナーや売店もあり、周囲の緑を眺めながら一息つける落ち着いた環境となっている。



The National Library
住所:2502 Agüero, Recoleta, Buenos Aires
TEL:+54 11 4806 9175
http://www.bn.gov.ar



Text and photo: Celeste Najt
Translation: Yuki Mine, which was built by architects Clorindo Testa, Alicia D. Cazzanica and Francisco Bullrich in 1992.



This building is a unique architectural piece after which "going to the library" is no longer a closed tour far from the sunlight.



The exterior is surrounded by greenery, levelled areas and ideal terraces. The building is mainly glazed, thus allowing the visitor to contemplate the impressive landscape while enjoying a book or studying in its broad rooms.



The Library has two levels. On the first one the Special Rooms are located (Private Reading Rooms, Argentina, Music, Maps Collection, Stamps, Visually Impaired) with their respective catalogues and on the mezzanine there are book deposits.



On the upper level there is the Main Reading Room, which holds 400 readers, the rooms for investigators and the rooms where general advice and information are provided with a capacity of 5,000 volumes.
There is also a deposit where there are newspapers and magazines, with 500,000 copies and a newspaper and periodicals library where the National School for Librarians functions.



Periodically, there are visual art exhibitions, gatherings of different disciplines and conferences.
The place is usually full of students who consult books in the library and also make the most of the broad and comfortable place to seek concentration and calmness.



As well as consulting interesting books you can have a drink at the bar on the first floor or buy some snacks at the kiosk on the levelled area in the entrance and then sit to contemplate the greenery surrounding the complex.



Thus the Library becomes a must in the tour around the Recoleta neighbourhood, due to its impressive image and its closeness to the National Art Museum, Malba Museum, Recoleta Cultural Centre and France Square.



The National Library
Address: 2502 Agüero, Recoleta, Buenos Aires
Tel: +54 11 4806 9175
http://www.bn.gov.ar



Text and photo: Celeste NajtBuenos Aires国家图书馆
地址:2502 Agüero, Recoleta, Buenos Aires
电话:+54 11 4806 9175
http://www.bn.gov.ar
<!- Rubicon OS Player --> <!- /Rubicon OS Player -->