music
マイルス
Miles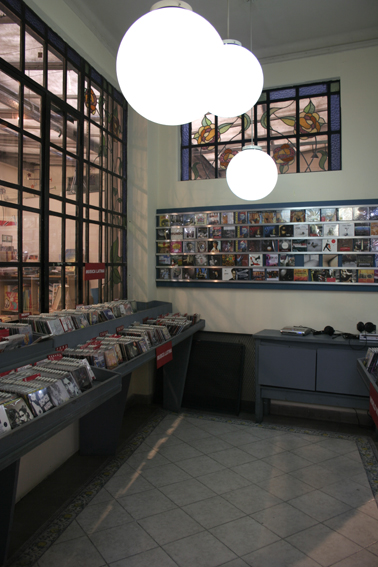 Record shops are a haven to musical experts. Miles, in Buenos Aires, is any traveller's haven. The record shop opened 10 years ago in the corner of Honduras and Gurruchagaレコードショップは音楽愛好家にとって安息の地であるように、ブエノスアイレスのホンジュラス通りとグルチャガ通りのコーナーに10年前にオープンした「マイルス」は音楽好きの旅行者にとっての安息の地になるだろう。
音楽や映画のCDやDVDが、国内、海外問わず、タンゴ、ジャズ、ロック、エレクロニック、クラシカルなど様々なジャンルを取り揃えており、必要ならば海外からも取り寄せる。
パレルモで、コーヒー片手に音楽を聴きたくなったら、マイルスに行くのがおすすめだ。



Music Paradise: Miles
住所:4912 Honduras Street, Palermo Soho, Buenos Aires
TEL:+54 4832 0466
miles@milesdiscos.com.ar



Text and photo: Celeste Najt
Translation: Kazunari Hongo, where it remains. When Miles opened its doors, Palermo was but one more neighbourhood.



In the past years a consumer and avant-garde boom has changed the area, nourishing the environment of the record shop. The range of offers in Miles is tempting — music or movie CDs and DVDs, national and imported material in diverse styles: tango, jazz, rock, electronic, world music, classical.



The catalogue is long and, in addition, records are brought from abroad upon request. According to Marcelo Morales, one of the owners, the best records available at present are the Box Sets by Miles Davis- John Coltrane 'Live at Central Park', by Ástor Piazolla, and 'UnoDosTres' (OneTwoThree) by Adrián Iaies.



The latest releases to be taken into account are John Mayer's 'Where the Light is', John Zorn's 'Filmworks XIX' and Liliana Herrero's 'Igual a mi corazón' (Just like my heart).



Visiting Miles is a cultural tour on its own. You can enjoy Palermo — having a coffee in the winter sun, listening to a record in Miles and even carrying on in the shop next door: another haven, but made of books.



Music Paradise: Miles
Address: 4912 Honduras Street, Palermo Soho, Buenos Aires
Tel: +54 4832 0466
miles@milesdiscos.com.ar



Text and photo: Celeste Najt音乐天堂: Miles
地址:4912 Honduras Street, Palermo Soho, Buenos Aires
电话:+54 4832 0466
miles@milesdiscos.com.ar

<!- Rubicon OS Player --> <!- /Rubicon OS Player -->