fashion
リル・ショップ
LIL*SHOP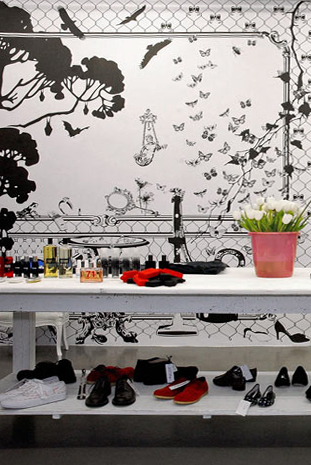 The COMME des GARÇONS Guerrilla Store Berlin has now found a great successor. Lil Schlichting-Stegemann, who concepted and ran the three former Guerrilla Storesコムデギャルソンのゲリラストアが素晴らしい後継者を発掘した。リル・シュリッティング-ステーゲマン。ベルリンで過去3つのゲリラストアを企画・運営し、現在ミッテ区のブルーネンストラッセ 184に「リル・ショップ」をオープンした。



新しいコンセプトでは、ビンテージコレクションから最新ライン、日本からのスペシャルエディションとしてレイ・カワクボの香水や財布のラインなどを提供する。名前とともに新しくなったこの店は、毎年移動するという習慣を変え、ローゼンタラー・プラッツにほど近いブルーネンストラッセを拠点に定めた。



メインショッピングエリアからは離れた場所で、近くではベルリンではおなじみの文化の融合を見ることができる。公有地に広がる無政府主義的な「フリーショップ」、アジアの店、そして無数のギャラリー。これらが作り出す対照的な眺めが、この場所を刺激的な空間にしているのだ。



ショップのコンセプトはリル・シュリッティング-ステーゲマンによるもの、そしてトーマス・ツァイトベルガーがそれを形にし、壁画のアートディレクションを行った。



LIL*SHOP
住所:Brunnenstrasse 184, 10119 Berlin
時間:12:00〜19:00(土曜 12:00〜18:00)
定休日:日曜日
TEL:+49 280 45 338
you@lil-shop.com
http://www.lil-shop.com



Translation: Shiori Saito in Berlin, has now opened LIL*SHOP in Brunnenstraße 184, Berlin-Mitte.



The new concept provides selling as well pieces from vintage collections as the new lines, spezial editions from Japan, perfumes and the wallet-line of Rei Kawakubo.
In addition to the new name, the new store is changing the habit of moving every year. It has now found a home in Brunnenstraße, near Rosenthaler Platz.



In the neighbourhood, away from the main shopping area, you find the exciting mixture, which is typical for Berlin: an anarchistic 'for free' shop in a squat, Asia-Shops and especially a bunch of young Berlin galleries.
A spot which is exciting because of these contrasts.



The concept of the store was done by Lil Schlichting-Stegemann, realization and art direction of the wall art by Vienna artist Thomas Zeitlberger.



LIL*SHOP
Address: Brunnenstrasse 184, 10119 Berlin
Open: 12:00-19:00 (Sat 12:00-18:00)
Closed on Sunday
Tel: +49 280 45 338
you@lil-shop.com
http://www.lil-shop.com
<!- Rubicon OS Player --> <!- /Rubicon OS Player -->