bar/restaurant
シロ・シロ
Shiro i Shiro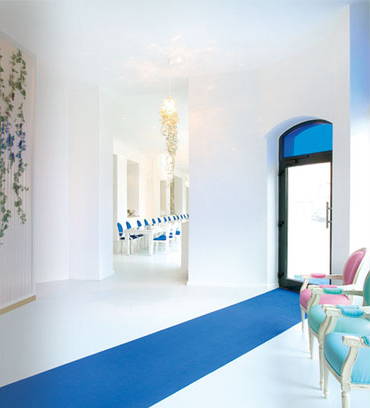 豪華なアパートメント風ホテル、LUX11の隣に位置する「Shiro i Shiro」は、ミッテ区のおしゃれなレストラン。白を基調としたインテリアはヨーロッパのバロック調とアジアのミニマリズムをShiro i Shiro lying next to the luxury apartment style hotel LUX11, is a fancy design restaurant in Berlin Mitte. The whitish bland interior is an attempt to blend European baroque with Asian minimalism and in the kitchen, the newest trends in European cooking with the Japanese Sashimi tradition.



It's hard to decide if Shiro succeeds on the grand scale but the menu interestingly for Berlin tries to facilitate invention and creativity unparalleled elsewhere. That said, perhaps this place is worth a visit just for the sake of the cocktails. The award winning bar chef blends own essences for use in the dominantly self- invented cocktails.



The menu card is in the upper price levels compared to Berlin standards and has many interesting varieties and possibilities. Start with an alcohol free Housemade Eistee (4 EUR) or perhaps the heavy Don Corleone (11 EUR) or the Japaneese Highball (12 EUR). There are some molecular-gastronomy influenced items on the starters-menu though the outline of card varies each month to facilitate variation and renewal.



The tendency toward Sashimi based fusion kitchen is a guideline, but other fusion dishes as meats and fish (24-29 EUR) are available. The Shiro i Shiro Sashimi selection (25 EUR) is a recommendable popular choice. There is a decent wine card even for the experienced traveller. Keep room for the delicious deserts (9-13 EUR) and an espresso (1,90 EUR).



A rare look at the trendy in crowd of Mitte and if luck even a Hollywood star.



Shiro i Shiro
Address: Rosa-Luxemburg-Str. 11, 10178 Berlin (Mitte)
Open: Lunch 12:00-15:00 / Dinner 19:00-23:30
Tel: +49 30 97 00 47 90
http://www.shiroishiro.com



Text: R.T.Hansen
織り交ぜたもので、その料理もまたヨーロッパの最先端の料理と日本の伝統的な刺身料理がミックスされたもの。



誰もが知る有名店ではないが、新しい試みと他にない独自性でベルリンにユニークな存在として認められる店である。受賞歴もあるバーテンダーが自身で生み出した素晴らしいカクテルを提供するので、それだけでも十分に満足させてくれる。メニューの価格はベルリン市内の平均よりはやや高めだが、どれも刺激と可能性に満ちている。



食事の前にはノンアルコールの自家製アイスティー(4ユーロ)、もしくは強いドン・コルレオーネ(11ユーロ)、または日本式のハイボール(12ユーロ)を楽しもう。スターターメニューの中には話題の科学的調理法「モレキュラー・ガストロノミー」に影響を受けたものも見られ、メニューの内容は毎月リニューアルされる。



刺身を基礎においたフュージョン料理がこの店のひとつのベースだが、肉やその他の魚によるフュージョン料理(24〜29ユーロ)もオーダーできる。Shiro i Shiro特選の刺身(25ユーロ)はお勧めしたい人気のメニューだ。旅慣れたゲストのために上等のワインも備えている。最後はおいしいデザート(9〜13ユーロ)とエスプレッソ(1.90ユーロ)をぜひ味わって欲しい。



ミッテ区の中の最先端レストラン、運が良ければハリウッドスターに会えるかも?



Shiro i Shiro
住所:Rosa-Luxemburg-Str. 11, 10178 Berlin (Mitte)
時間:ランチ 12:00〜15:00/ディナー 19:00〜23:30
TEL:+49 30 97 00 47 90
http://www.shiroishiro.com



Text: R.T.Hansen
Translation: Shiori Saito
<!- Rubicon OS Player --> <!- /Rubicon OS Player -->