bar/restaurant
ベルリンテレビ塔
FERNSEHTURM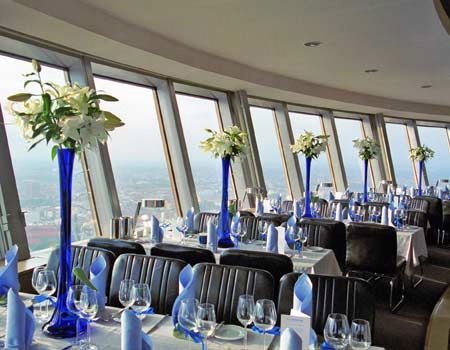 ベルリンテレビ塔の回転するパノラマカフェは、旅行者にも地元客にも忘れられない体験を約束する、言わずと知れた名所The legendary spinning panorama cafe in the Berlin TV tower is for any tourist or resident of Berlin an extraordinary and literally outrageous experience. In the DDR era the elevated dome was designed for important guests from the political- and cultural elite to enable a full view panorama view of the cityscape while dining.



Access to the restaurant is through the normal elevator to the panorama platform (entry 9.50 EUR). It's possible to skip the line for the elevator if you inform the ticket office that you have a reservation in the restaurant. When entering the panorama platform there is a new line to be addressed a table in the restaurant upstairs.



The menu is in quality -sense and -flavour traditional German but in style slightly continental with the variety of eggs&roll- breakfasts, steaks, salads and so on. The daily specials are fresh and recommendable; salads are consumable and a way around the generally heavier menu for weightwatchers. There is a great selection of "Eisspezialitäten" the German way of preparing enormous ice-cream desserts. The cakes and pies are various, perhaps the greatest selection in Berlin and fit the aura of the place.



For a local experience try the potato soup "Berliner Kartoffelsuppe mit Partywürstchen" (3,50 EUR) or the cherry pie "Schwarzwälder-Kirschtorte" (3.50 EUR) or the local pie "Berliner Windbeutel mit Sauerkirschgelee" (4.00 EUR). On a sunny day the overview of the city is spectacular in its multitude of contradictions and the experience is only further enhanced by the slowly rotating tables and mature DDR-beauty waitresses. (Mains 10-16 EUR, salads 6-10 EUR, soups 3-5 EUR, desserts 3.50-6 EUR).



FERNSEHTURM
Address: Panorama str 1a, 10178 Berlin
Open: 9:00-24:00
Tel: +49 0302423333
http://www.berlinerfernsehturm.de



Text: R.T.Hansen。旧東西ドイツ時代、政治や文化の重要な来賓に街を360度見下ろしながら食事をしてもらうために設計されたものである。



アクセスには展望台行きのエレベーター(9.50ユーロ)を利用。レストランの予約をしてある場合は、チケット売り場でその旨を伝えれば待たずにエレベーターに乗る事ができる。展望台に着くと、上階のレストランに並ぶ行列が見えるだろう。



料理は質も味も伝統的なドイツ式だが、エッグ&ロールの朝食やステーキ、サラダなどヨーロッパ大陸風のスタイルも取り入れて幅広い。日替わりのスペシャルメニューは新鮮で美味しく、サラダや比較的軽めのメニューもありダイエット中の人にもうれしい。ドイツ式巨大アイスクリームデザート「アイスペツィアリターテン」の特選セレクションもある。ケーキやパイの種類が豊富で、おそらくこの場所にふさわしくベルリンで最高の味だ。



地元の味を楽しみたいならポテトスープ「ベルリナー・カルトッフェルズッペ・ミット・パルティヴュルストヒェン」(3.50ユーロ)かチェリーパイ「シュヴァルツァヴェルダー・キルシュトルテ」(4.00ユーロ)がおすすめ。晴れた日には多様な街が最高の眺めを作り出す。ゆっくりと回転するテーブルに着き、熟練のベテランウェイトレスの接客を受けながら、他では味わえない体験を楽しもう。



FERNSEHTURM
住所:Panorama str 1a, 10178 Berlin
時間:9:00〜24:00
TEL:+49 0302423333
http://www.berlinerfernsehturm.de



Text: R.T.Hansen
Translation: Shiori Saito
柏林电视塔
地址:Panorama str 1a, 10178 Berlin
时间:9:00-24:00
电话:+49 0302423333
http://www.berlinerfernsehturm.de

<!- Rubicon OS Player --> <!- /Rubicon OS Player -->