art/design
ギャラリー・ゼロ
GALERIE ZERO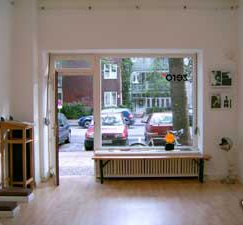 アーティストのプラットフォームとしてベルリンから東ヨーロッパのアートシーンを発信するギャラリー・ゼロ。アート、メディア、環境アーキテクチャーの3つにフォーカスしZERO.project is a meeting place, exchange platform and a Gallery in Berlin with a focus point on Eastern Europe. There are thee major fronts of activities: art, media [journalism] and environmental architecture.
ZERO is a neutral start-point, a beginning of creating something new, a cooperation to bring together both, the Eastern and the Western European cultures.
ZERO is part of the Wrangler Projekt initiated by Spielfeld.



GALERIE ZERO
Address: Köpenicker Strasse 4, 10997 Berlin
Open: Wed-Fri 12:00-18:00 / Sat 12:00-20:00
Tel: +49 30 74073309
info@zero-project.org
http://www.zero-project.org、「新しい何か」が生まれるフィールドとして東西ヨーロッパを結びつける活動を行っている。



GALERIE ZERO
住所:Köpenicker Strasse 4, 10997 Berlin
時間:水〜金 12:00〜18:00/土曜 12:00〜20:00
TEL:+49 30 74073309
info@zero-project.org
http://www.zero-project.org



Translation: Tatsuhiko Akutsu画廊零
地址:Köpenicker Strasse 4, 10997 Berlin
时间:星期三至星期五 12:00-18:00/星期六12:00-20:00
电话:+49 30 74073309
info@zero-project.org
http://www.zero-project.org
<!- Rubicon OS Player --> <!- /Rubicon OS Player -->