art/design
ボングウ
bongout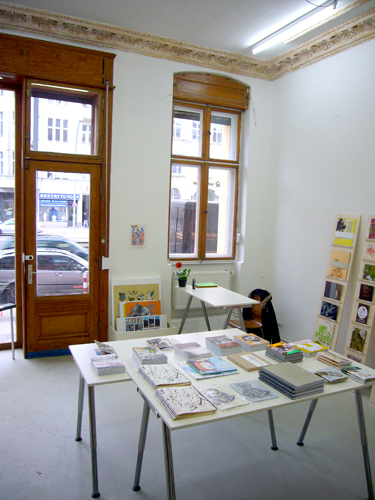 In February 2008, after more than twelve years spent working in different European cities and four years of running a silkscreen workshop in Berlin-Friedrichshain, Meeloo Gfeller and Anna Hellsgard12年以上もの間ヨーロッパ各国に滞在し、4年間ベルリン・フリードリヒハインでシルクスクリーンのワークショップを運営したのち、2008年2月、ミールー・グフェラーとアンナ・ヘルスガルドはトア・シュトラーセ110に新しいショールームを開いた。



ボングウは長年コンサートのポスターやレコードのスリーヴ、限定品の美術書籍などを作ってきた。グフェラーとヘルスガルドはこれまで5回発行されている「モルスク・マガジン」の編集にも携わるほか、ダミエン・ドルーベ、アントン・ベルンハルト、コステス、レインハルド・シャイプナー、クラウディア・アルデリングといった現代美術家たちとシルクスクリーンや出版物の分野で定期的にコラボレーションを行っている。彼らはジャンルや人々の予想、テクニックやメディアの間を自由に行き来し、グラフィックの持つ力と観念的な刺激を伝え続ける。



そのためミッテ区にある彼らのショールームは現代美術がグラフィックやアンダーグラウンドのアート、様々な形の音楽やヴィジュアル文化と出会える場所である。簡単に言えば、ここはボングウの作品と、彼らがコラボレートするアーティスト、また「モルスク・マガジン」で紹介されたアーティスト(ブランケット、チャールズ・クラフト、レス・クリムス等)のためのショールームであり、彼らがこの先に新たに発掘していくアートやアーティストのための場所なのである。



現代美術に存在する境界線をはるかに超えて、ミールー・グフェラーとアンナ・ヘルスガルドがふたりで放つ力は新たな架け橋をつくり、観客を驚かせ、刺激することだろう。



Bongout
住所:Torstrasse 110, 10119 Berlin
時間:火〜土 12:00〜19:00
TEL:+49 30 280 93 758
info@bongout.org
http://www.bongout.org



Translation: Shiori Saito will inaugurate a new gallery showroom on 110 Torstrasse. Over the years, Bongout has produced a significant number of concert posters, record sleeves and limited-edition artists' books. Gfeller and Hellsgard are also the editors of Mollusk magazine (5 issues so far) and regularly collaborate with contemporary artists on silkscreen prints and publications (Damien Deroubaix, Antoine Bernhart, Costes, Reinhard Scheibner, Claudia Aldering a.o.). They navigate between genres, expectations, techniques, and media, always emphasizing graphic power and ideologi cal impact.



Accordingly, their showroom in Berlin-Mitte is a place where contemporary art will meet graphic, chance and underground art as well as numerous forms of sound and visual cultures. In short, a showcase for both Bongout's productions and the artists with whom Gfeller and Hellsgard have been collaborating in their studio or whom they have published in Mollusk (Blanquet, Charles Krafft, Les Krims etc.), as well as for their future discoveries.



Extending far beyond the confines of contemporary art, the joint influences of Meeloo Gfeller and Anna Hellsgard should account for a space that sets out to build bridges but also to surprise and provoke audiences!



Bongout
Address: Torstrasse 110, 10119 Berlin
Open: Tue-Sat 12:00-19:00
Tel: +49 30 280 93 758
info@bongout.org
http://www.bongout.orgBongout
地址:Torstrasse 110, 10119 Berlin
时间:星期二至星期六 12:00-19:00
电话:+49 30 280 93 758
info@bongout.org
http://www.bongout.org
<!- Rubicon OS Player --> <!- /Rubicon OS Player -->