art/design
カームアンドパンクギャラリー
CALM & PUNK GALLERY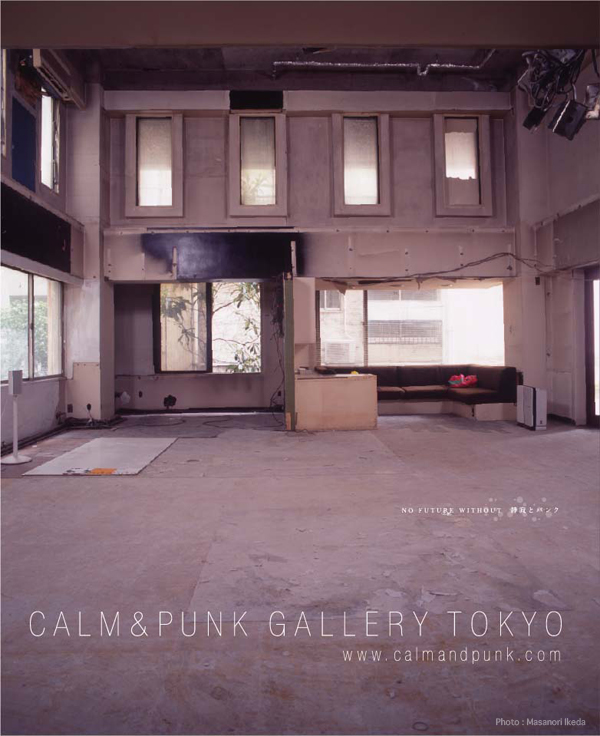 CALM & PUNK GALLERYは、ガスアズインターフェイス株式会社がプロデュースする新しいギャラリーで、作家と技術者を結びつける接点となるようなプレゼンテーションを行う場所を目指していきます。築30年の時間を感じさせる空間を真っ白く塗りかえ、展示とともに変化していきます。Calm & Punk Gallery produced by Gas As Interface Co.,Ltd. is a presentational space, intended to serve as a meeting point for artists and engineer so that they can connect.
Re-painting a 30 years old space into an all white space, the gallery transforms each exhibition.インタラクティブアートを中心に、メディアアート・グラフィック・写真・ファッション・映像など、様々な展示表現を行います。そして、テクノロジーを利用した新しい作家を支援、育成し、企業や個人を通じ、社会へ、商品サービスを提供し定着することを目的としていきます。



カームアンドパンクギャラリー
住所:東京都港区西麻布1-15-15 浅井ビル1F
時間:12:00〜19:00(展示内容によって異なる/不定休)
TEL:03-5775-0825
info@calmandpunk.com
http://www.calmandpunk.comOur concept is fair and modest. Its wide-open space (approx 48.5 metre square; and 5.1m high) can be used for exhibitions of interactive art/media/graphics/photography/fashion, as well as photography/film shootings, workshops, film screenings etc.



We aim to support and educate new artists who use technology, as well as establish their merchandise service through business enterprise and individuals.



CALM & PUNK GALLERY
Address: 1-15-15 Nishi-azabu, Minato-ku, Tokyo
Open: 12:00-19:00
Tel: 03-5775-0825
info@calmandpunk.com
http://www.calmandpunk.com平静&朋克 画廊
地址:東京都港区西麻布1-15-15 浅井ビル1F
时间:12:00-19:00
电话:03-5775-0825
info@calmandpunk.com
http://www.calmandpunk.com
<!- Rubicon OS Player --> <!- /Rubicon OS Player -->