furniture/interior
ノーディスカ・ギャラリー
Nordiska Galleriet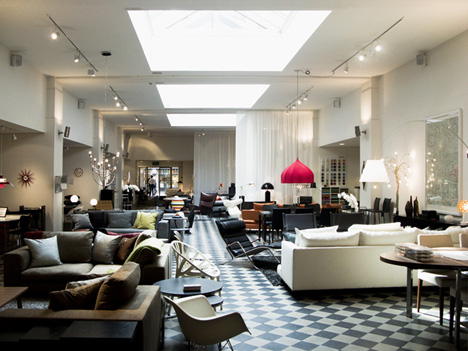 Providing Stockholm with a modern classic outstanding furniture design since more than half century. Built in 1912 as a auction hall for classic furniture半世紀に渡り、モダン・クラシックなデザイン家具をストックホルムに提供し続けている「ノーディスカ・ギャラリー」。1921年にオークション会場として建てられた建物をそのままに高品質な家具を提供するスペースとして新装開店した。
メインに扱うのは、「ノーディスカ=ノルディック」の名前の通り、北欧の家具で、オフィスから家庭用まで沢山の種類を取り揃えている。
名作家具もあるが、ドイツのシュブッチ、インターリュプケのキューブコレクション、イタリアのカッシーナ、デンマークのフリッツ・ハンセン、スイスのヴィトラなどの新作家具が中心。
スェーデンの冬は日照時間が短いので照明器具はとても重要になる。様々なブランドの多くの照明器具があるので、それを見るのも楽しいだろう。



Nordiska Galleriet
住所:Nybrogatan 11, 11624 Stockholm
営業時間:10:00〜18:00 (土曜17:00まで, 日曜12:00〜16:00)
TEL:+46 (0)8 442 8360
http://www.nordiskagalleriet.se



Text and photo: Victor Moreno and paintings and due its big proportions cars where also stocked in the gallery. Actually they have kept same original floor since then. But is not until the 50´s when is formed under the concept it is still having nowadays as a seller of new high quality furniture. The purpose of the store is to deliver a full and total solution for private and public areas/offices but also home environment.



Paying attention to its name "The Nordic Gallery" you can think is all about Scandinavian designers but in fact international design occupy the space mainly. It´s a unique place where-to-find a permanent collection of original models difficult to find. Actually they give you the option to ask for different colors or materials based on the same design. Along this permanent exhibition is a constant income of new designs. Its big and characteristic window stand is renovated once per month.



The core is not just offer new modern classics but new items every year. There is always a balanced selection. The items you can find will be a classic if is it not already.



Not all Swedes go crazy with IKEA as a patriotic habit of consume. Nordiska Galleriet
aims to be a leading store in Europe and provide a collection of pieces outstanding in the range of international known designers and brands. Not in vain is exclusive provider in Sweden for German Schönbuch and Cube collection by Interlübke or Italian Cassina among latest models from Danish Fritz Hansen and the currently Swiss Vitra.



Lightning market in Sweden is very important. Not just because of the amount of short hours of day time during the winter but as a cultural fact you can get 4-6 points of light in the same room. Hall furniture design comes along anew nowadays. It is easy to fall in love with their proposals.



Nordiska Galleriet
Address: Nybrogatan 11, 11624 Stockholm
Opening Hours: 10:00-18:00 (Sat till 17:00, Sun 12:00-16:00)
Tel: +46 (0)8 442 8360
http://www.nordiskagalleriet.se



Text and photo: Victor Moreno北欧画廊
地址:Nybrogatan 11, 11624 Stockholm
时间:10:00-18:00 (星期六至17:00, 星期日12:00-16:00)
电话:+46 (0)8 442 8360
http://www.nordiskagalleriet.se
<!- Rubicon OS Player --> <!- /Rubicon OS Player -->