music
ズーク
Zouk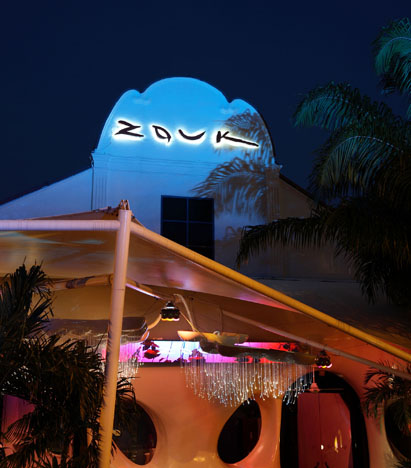 Zouk(ズーク)はアジアだけではなく世界のトップ10にも入るシンガポールのパイオニア的存在のナイトスポット。通常のDJイベントやライブイベントはもちろんのこと、アートエキシビションLaunched in March 1991, Zouk has grown into a club like none other in Asia. Regularly inspiring comparisons with Europe's top clubs such as Pacha in Ibiza and legendary Hacienda, や新鋭デザイナーにフォーカスを当てたファッションショーなど若手クリエイターのサポートをはじめ、Z.O.U.Kという名の洋服レーベルを始動するなど、音楽を中心にライフスタイルを提案するクラブ。また、2000年より毎年恒例でズークアウトという野外(ビーチ)パーティーを主催。マレーシアやインドネシア、タイなどの近隣国をはじめ、世界中から2万人以上が集り、過去にはPaul van DykやAbove & Beyond、Sasha、Carl Cox、Booka Shade、Erol Alkanなど、世界を代表するDJやアーティストを招聘し、アジアを代表するミュージック・フェスティバルと年々成長している。



Zouk
住所:17 Jiak Kim Street, Singapore 169420
TEL:+65 6738 2988
http://www.zoukclub.comZouk aims to propel Asia's dance music culture and lead Singapore to the forefront of global clubbing.



The recongnition of this sprawling 2,000-capacity club is reflected by its coverage in many international publications.



Since its beginning, Zouk has delivered an innovative nad progressive clubbing environment, introducing Singapore to the world's freshest dance music – from house to garage, from techno to progressive, from big beat to breaks. It was Singapore's first club to play house music, a risk at a time when its peers relied on Top 40 and retro play lists. Zouk's commitment to pushing the boundaries of music in Singapore and Asia remains as strong as ever as the worldwide phenomenon of dance music expands across Asia. It has now evolved into a venue housing four distinct rooms with seven resident DJs spinning a range of musical styles.



DJs in each one of Zouk's rooms – from Velvet Underground and Phuture, from The Wine Bar to main dance floor of Zouk – are regularly invited to play in major club and events across Europe, USA, Australia, New Zealand and other Asian countries.



That relationship has flourished in part due to the club's efforts to bring out guest DJs and live acts from around the world. Some of the world's top DJs have played in Zouk – Cart Cox, Paul Oakenfold, Danny Tangtia, Sasha, Louie Vega, Kenny Dope, Derrick May, John Digweed, Norman Cook, Laurent Garnir, Jeff Mills, Seven Vath, Roger Sanchez, Darren Emerson, David Morales, Frankie Knuckles, Gilles Peterson, NIck Warren, Joe Clausell, Danny Krivit, Francois K…



Live acts played to capacity crowds include Bjork, Placebo, Jah Wobble's Invaders of the Heart, Grace Jones, Galliano, 808 State, The Chemical Brothers, Ronny Jordan, Ash, M People, Kylie Minogue, Massive Attack, Primal Screem, Incognito…
The club holds regular nights of poetry reading, fashion show, short film screenings, one-off them nights, multimedia plays and theatre, and even stage a talk show wich cultural icon Malcolm McLaren. The club has its own events management subsidiary (featuring an in-house graphic and set design team) to organise these events. It also has a commitment to promote local creative talent in the fields of music, fashion, design, and film, working regularly with Singapore's top design colleges.



Zouk has been a magnet for clubbers everywhere. Spread by a combination of media and world-of-mouth. Zouk's reputation has grown fast. From John Galliano to David Beckam, Matt Dillon to Jamirowuai, Linkin Park to Kiraro, Futura to Shu Qi. Zouk has become a hub for the jet-set.



Different themes and styles of music are played on different nights of the week to maintain the club's diversity. Fridays and Saturdays see two back-to-back evenings of the world's best, cutting edge dance music. Retro music dans regularly pack the floor on Wednesdays for Mambo Jambo, an eclectic blend of 70s, 80s, and 90s pop music. The club features regular nights for drum and bass, hip hop/breaks and deep house. Tuesday and Thursday are the popular Aircrew Night @Velvet Underground when the different crew of international airlines mingle.



The magic of Zouk is generated by four distinctly different clubs all within the Zouk complex – Velvet Underground with own entrance, thick velvet-covered walls and eclectic decor and its new lounge; Phuture with futuristic design and long, winding bar, experimental breakbeat music and windows overlooking the main room; The Wine Bar with its indoor outdoor seating where people meet up for drinks and a bit of funky and down-tempo live DJ music before entering the complex for a night of hedonism and the main Zouk room, where white-washed walls, extensive use of Gaudi inspired Moorish tiles and mosaics, cutting-edge sound system and lighting, sprawling multi-level dance floor, podiums, pockets of bars and body-bending music create the overall heart of the club.



Zouk
Address: 17 Jiak Kim Street, Singapore 169420
Tel: +65 6738 2988
http://www.zoukclub.com



ズーク
地址:17 Jiak Kim Street, Singapore 169420
电话:+65 6738 2988
http://www.zoukclub.com
<!- Rubicon OS Player --> <!- /Rubicon OS Player -->