bar/restaurant
ルーフ
Loof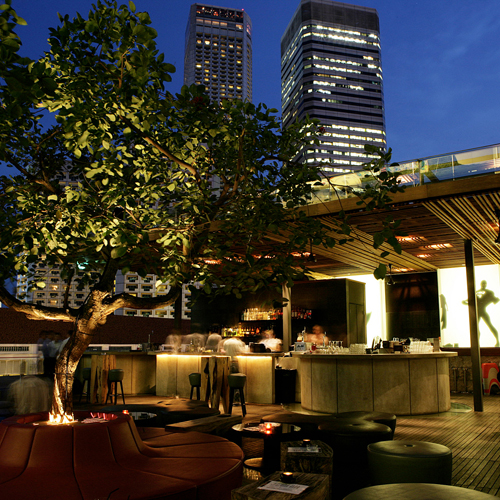 屋根裏のような楽しい場所を作りたい、という思いから生まれたのが、レストラン・バー「ルーフ」。ビックリするようなデザインの過程を経て完成されたその場所は、席や個室それぞれが個性的なデザインになっておりThe concept behind loof was driven by our desire to create a playful space that would capture the essence of the rooftop in a light-hearted dollop.、どこを選ぶかでその人の心の状態や選んだ人々を伺い知ることができる。



入り口の木を通り過ぎ、中に入ると聞こえてくるのはダウンテンポのエレクトロニカ。横になってガラス越しに下の方を見つめてみる。夜空には満点の星。そこからは都市が見渡すことができる。ルーフはオフィスワーカーの安息の場、優れた精神の休息、愚か者のための避難所、新進気鋭の芸術家のカンバス、そして素晴らしい夜の幕開けの場として、つくられている。



Loof
住所:331 North Bridge Road, #03-07, Odeon Towers Extension Rooftop, Singapore 188720
時間:17:30〜1:00(金・土・祝日前夜3:00 まで)
TEL:+65 6338 8035
loof@loof.com.sg
http://www.loof.com.sg



Translation: Yuki Mine After a histrionic, mind-boggling design process, they shaped a space where no two seating options would be the same, each an alcove for differing states of mind and a reflection of those who choose them.



Skirt around the caged tree at the entrance, slip into an edgy mix of down tempo electronica. Lie down, peer through the glass into the space below. Roll over, take in the star sprinkled sky. Float through wood clad steel and transition from the world outside, into an air-conditioned glass gallery with the city on display.



Loof is designed as a refuge for the bedraggled office worker, a respite for the brilliant mind, a sanctuary for fools, a canvas for the budding artist and the launch pad for a brilliant night.



Loof
Address: 331 North Bridge Road, #03-07, Odeon Towers Extension Rooftop, Singapore 188720
Open: 17:30-1:00 (Friday & Saturday till 3:00)
Tel: +65 6338 8035
loof@loof.com.sg
http://www.loof.com.sg



屋顶
地址:#03-07, Odeon Towers Extension Rooftop, 331 North Bridge Road, Singapore 188720
开放时间:17:30-1:00(星期五至六至3:00)
电话:+65 6338 8035
loof@loof.com.sg
http://www.loof.com.sg
<!- Rubicon OS Player --> <!- /Rubicon OS Player -->