art/design
スカルプチャー・スクエア・ギャラリー
Sculpture Square Gallery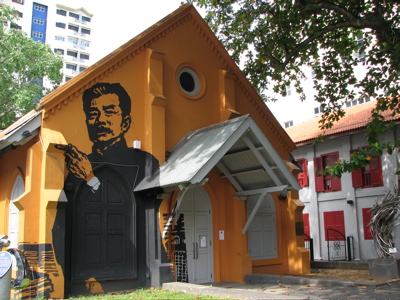 非営利の独立芸術団体であるスカルプチャー・スクエア・ギャラリーは、シンガポールで最初の、そして唯一の現代3次元アートの促進、発展、地域間の交流に特化したアートスペースSculpture Square – a non-profit, independent arts organisation – is Singapore's first and only art space dedicated to the promotion, development and regional exchange of contemporary 3-dimensional artである。1999年より地元のビジュアルアートシーンで、特に若い才能の発掘、育成で重要な役割を担っており、個人や共同での展覧会や地域間でのアーティストの交換、アーティストレジデンス、シンポジウムを開催している。これらの刺激的なプログラムを通して若手から定評のあるアーティストまでが3次元アートの分野で成長できる機会を提供している。



地域での彫刻と現代3次元アートの中心地として、このギャラリーの役割はただ国内外のアーティストの作品を展示するのみではなく、さらに3次元アートの世界を地元に紹介し、市民とアーティストの橋渡し役となることを目指している。ここでは地域参加型のプログラムが年間通して活発に行われている。討論会や気軽に参加できるアーティストとの交流会、年一回の子供達のためのお祭りや展覧会、さらには一年中開催されている子供向けの彫刻ワークショップまである。また専門的知識や急速に発展している資料館の支持のもと、広範囲に渡るアートに関するコンサルタント業務も利用することができる。



Sculpture Square Gallery
住所:155 Middle Road, Singapore 188977
時間:8:30〜18:00/金曜 9:00〜18:00(土・日・祝日定休)
TEL:+65 6333 1055
http://www.sculpturesq.com.sg



Translation: Yuki Mine. Since 1999, Sculpture Square has been a key player in the local visual arts scene, especially in recognising and nurturing young talent. We hold individual and collaborative exhibitions, regional artist exchanges, artist residencies and symposiums. Such stimulating programmes afford opportunities for both new and established artists to grow in the field of 3-dimensional art.



As a regional hub for sculpture and contemporary 3-dimensional art, Sculpture Square's role extends beyond showcasing works by local and international artists – it wants to bring the world of 3-dimensional art to the community and to bridge the gap between the public and these artists.



Lively community programmes run throughout the year at Sculpture Square – including talks, informal meet-the-artist-sessions, an annual children's Sculpture Carnival and Children's Sculpture Exhibition, and year-round children's sculpture workshops. It also provides comprehensive art consultancy services, which are backed by curatorial expertise and a rapidly growing resource centre.



Sculpture Square Gallery
Address: 155 Middle Road, Singapore 188977
Open: 8:30-18:00 (Friday 9:00-18:00)
Closed on Saturday, Sunday & Public Holiday
Tel: +65 6333 1055
http://www.sculpturesq.com.sg



雕塑广场画廊
地址:155 Middle Road, Singapore 188977
开放时间:9:00-18:00(星期六至日・祝日休息)
电话:+65 6333 1055
http://www.sculpturesq.com.sg
<!- Rubicon OS Player --> <!- /Rubicon OS Player -->