UNPLUGGED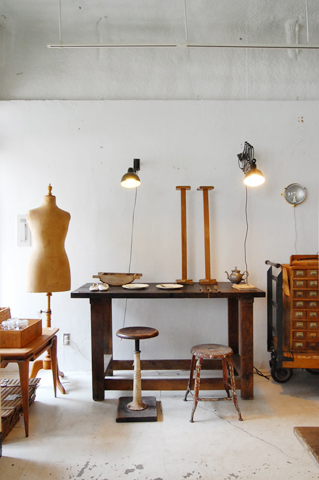 Originally started as as an used clothing store, Unplugged was opened in 2007 as a select shop selling antique furniture as well as used clothing from Europe and USA もともと古着ショップからスタートしたアンプラグドは、2007年にオープンし、2009年4月に現在の場所に移転してきた、ヨーロッパやアメリカのアンティークの家具や古着を取り扱うセレクトショップ。個性的なショップが立ち並ぶ通称「南3条通り」にある。



店内には、フランスやアメリカを中心とした国々でショップオーナーが買付けてきた家具、食器、雑貨、照明などが所狭しとディスプレイされている。ショップで取り扱うのは「ブロカント」と言われる製造から100年経過していない古道具が多く、数世紀を経たアンティークのキャビネットの扉の向こうに整然と置かれている。



19世紀フランスの背の高いキャビネットや木製のイスなどの家具、カップ&ソーサー、グラスなどの食器類の他、パリの蚤の市など海外の様々な場所で買付けられた雑貨にはボタン、糸、押し花、おもちゃなどもディスプレイに並んでいる。そして、ドイツで買付けた照明は、バウハウスの流れを汲んだのものが多いそう。そんな時代を経た品々に囲まれていると、まるでタイムトラベルをしているかのような気持ちを味わえる。



ショップのエントランス右手にある衣類を取り扱うスペースでは、「TATAMIZE」や「YAECA」などの国内ブランドの他、アンプラグドのプライベートブランド「PHILLADELPHIA」、アメリカやフランスのビンテージものの服、靴、バッグなどの小物も取り扱う。



店内では、レジカウンター以外はハンガーや陳列棚なども全て商品として販売している。しっとりとした雰囲気のある古いものを眺めてみたくなったら是非足を運んでみてほしい。



UNPLUGGED(アンプラグド)
住所:札幌市中央区南3条西8丁目11-3 シティアヴェニュー南3条1F
営業時間:13:00〜20:00
TEL:011-251-6787
http://unpluggged.exblog.jp



Text: Mariko Takei and moved to the current place in April 2009. It is located at Minami Sanjo Street with many unique stores.



The shop is displayed with a range of furniture, tableware, interior goods, and lightings which were imported by the shop owner mainly in France and USA. Many of the products sold in the shop are so called "brocante" which are secondhand goods that were produced 100 years ago or less.



They feature things like, antique furniture such as tall 19th-century made cabinet and wooden chairs, tableware like cup&saucer and glasses, and old goods bought at the flea market in Paris such as buttons, threads, pressed flowers, and toys. Lighting fixtures are mainly imported in Germany and many of them are designed in Bauhaus style. You will be surrounded by such aged products as if you felt like enjoying time travel.



At the right side space to the entrance, they sell used clothing and other national fashion brand clothing including TATAMIZE and YAECA, and Unplugged's private brand PHILLADELPHIA as well as vintage clothing, shoes, and bags from USA and France.



All the product in the shop including hangers and display shelves is sold except for the register counter. Great place to see nicely aged things and feel the comfortable atmosphere.



Unplugged
Address: 1F 11-3, South 3 West 8, Chuo-ku, Sapporo
Opening Hours: 13:00-20:00
Tel: 011-251-6787
http://unpluggged.exblog.jp



Text: Mariko TakeiUNPLUGGED(不插电)
地址:札幌市中央区南3条西8丁目11-3 1F
开放时间:13:00-20:00
电话:011-251-6787
http://unpluggged.exblog.jp