art/design
アートビニール・ギャラリー
Art Vinyl Gallery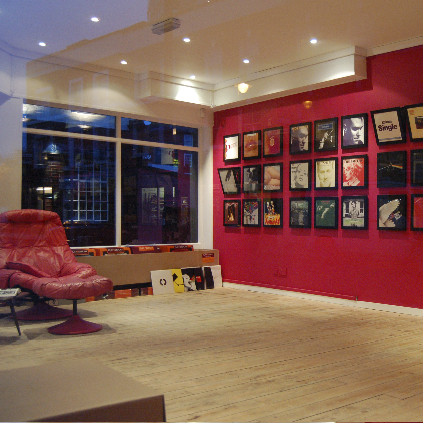 お気に入りのミュージックとレコードアートのオリジナルの展示方法、アートビニール。音楽ファンにとっての新しいアイディアであり、オリジナルのインテリアデザインコンセプトでもある。Art Vinyl is the original way to display your favourite music and vinyl record art. A new idea for music enthusiasts and an original interior design concept.

取り外し簡単な「Art Vinyl Play & Display Mounts」を使って、 自分が持っているビニールレコードで自分だけのディスプレイができ、お気に入りのミュージックやアーティストをより楽しむことができる。



アートビニール・ギャラリーは、ビニールカバーアート専門のユニークな展示スペース。ギャラリーのキュレーターにより、2週間単位でエキシビションが行われている。イースト・ロンドンのブロードウェイマーケットに位置し、週末にはエキシビションと関連したDJイベントも。



Art Vinyl Gallery
住所:20 Broadway Market, London E8 4PH
時間:11:00〜18:00(日・月定休)
TEL:+44 0 20 7241 4129
info@artvinyl.com
http://www.artvinyl.comCreate an original display with vinyl records you already own and buy. Experience more pleasure from your favourite music and artists using the quick-release Art Vinyl Play & Display Mounts to create your very own Art Vinyl display.



The Art Vinyl Gallery is a unique exhibition space dedicated to vinyl cover art. Art Vinyl Exhibitions change every two weeks as do our curators.



Situated in East London's Broadway Market, The Art Vinyl Gallery is worth a visit during the week or on Saturday market days when your visit will include DJ's relevant to the current Exhibitions.



Art Vinyl Gallery
Address: 20 Broadway Market, London E8 4PH
Open: 11:00-18:00 (Closed on Sun&Mon)
Tel: +44 0 20 7241 4129
info@artvinyl.com
http://www.artvinyl.com乙烯基艺术画廊
地址:20 Broadway Market, London E8 4PH
时间:11:00-18:00
休息日:星期日・星期一
电话:+44 0 20 7241 4129
info@artvinyl.com
http://www.artvinyl.com
<!- Rubicon OS Player --> <!- /Rubicon OS Player -->