bar/restaurant
レッド・バー&レストラン
RED Bar + Restaurant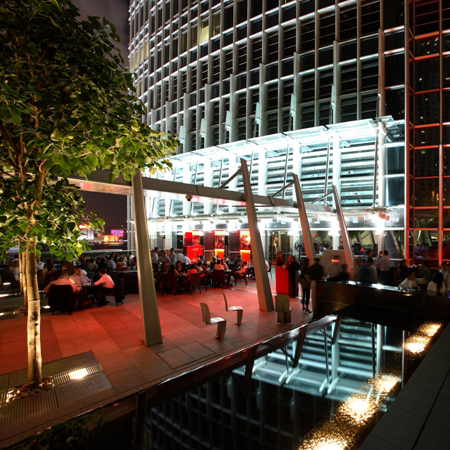 RED Bar + Restaurant opened in Hong Kong's tallest building in September 2004. It was voted by Conde Nast magazine as one of the hippest bars in the world in 2005レッド・バー&レストランは、2004年9月に、香港で最も高層なビルの中にオープンした。ここは2005年旅行雑誌コンドナストで「世界で最も素晴らしいバー」のひとつに選ばれ、最近ではHKマガジン・リーダーズ・チョイス・アワード2006で「ベスト・バー/クラブ」に選ばれた。このバーレストランは、健康志向の人、ロマンティックなカップル、家族連れ、大規模なパーティーや会社の会合などあらゆるゲストにぴったりの場所だ。



レッド・バー&レストランは、ビクトリア・ハーバー、九龍ペニンシュラホテル、セントラル・スカイラインの息をのむような絶景に囲まれ、他では味わえない食事体験を提供する。建物内のダイニングエリアは親しみやすくも優雅な食事と会話を約束する建物内のダイニングエリアは、週末には国内外の有名DJによる心躍る空間に様変わり。



有名ホテルやレストランでの20年以上の経験を持つシェフ、リー・キン・ポンがスタイリッシュで感じの良いカリフォルニア料理を届ける。彼はいかなる高い要求にも応えることのできる熟練された技術と知識の持ち主だ。知的で革新的な表現を追求し、豊かに織りなされた料理を創作する。



彼の最高傑作「チリアン・シーバス」は弱火でじっくり焼き上げた魚にシェフ特製のウニのソースを絡めたもの。これに外側がカリカリで中は柔らかい、新鮮なエビを蕎麦で包んで揚げたものが添えられる。フュージョン料理の熟練の技を実証する一皿だ。



レッドは素晴らしいカクテルや、古いものから新しいものまで幅広いセレクションのワインも取り揃えている。新鮮なフルーツのみで作られた特製ジュースやスムージーもおすすめだ。



RED Bar + Restaurant
住所:4/F Podium, Two ifc, 8 Finance Street, Central, Hong Kong
時間:月〜水 11:30〜深夜/木 11:30〜1:00
   金・土 11:30〜3:00/日・祝日 11:30〜22:00
TEL:+852 8129 8882
info@pure-red.com
http://www.pure-red.com



Translation: Shiori Saito and recently by HK Magazine Readers' Choice Awards 2006 as the best bar / club. It is truly an establishment for all types of guests: health conscious diners, romantic couples, families, large parties and corporate gatherings.



RED Bar + Restaurant is surrounded by breath-taking views of Victoria Harbour, Kowloon Peninsula and the Central skyline, making it a unique dining experience. The indoor dining area provides an intimate yet elegant setting for meals and conversation, and is seamlessly transformed into a heart pumping venue with some of Hong Kong's locally and internationally known DJs on weekends.



With more than 20 years of experience in top hotels and restaurants, Executive Chef Lee Kin Pong serves up stylish and savory California cuisine. Pong has the expertise and knowledge to cater to every discerning culinary request. He emphasizes intelligent and innovative presentation, to create a rich tapestry of flavours.



His signature dish Chilean Seabass is tenderly grilled at a low temperature and drizzled in Pong's special sea urchin sauce. This is accompanied by crispy prawns wrapped in Soba noodles then deep fried to create a crunchy exterior with a tender centre. The dish exemplifies Pong's mastery of fusion techniques.



RED offers a wide selection of old and new world wines as well as signature cocktails. The liquid diet menu also features special juices and smoothies that are all made from the freshest fruits.



RED Bar + Restaurant
Address: 4/F Podium, Two ifc, 8 Finance Street, Central, Hong Kong
Open: Mon-Wed 11:30-midnight / Thur 11:30-1:00
   Fri&Sat 11:30-3:00 / Sun&Public holiday 11:30-22:00
Tel: +852 8129 8882
info@pure-red.com
http://www.pure-red.com



RED 酒吧+餐厅
地址:香港中环港景街1号国际金融中心商场二期4楼
开放时间:星期一至三 11:30至午夜 / 星期四 11:30-1:00
     星期五・六 11:30-3:00 / 星期日・祝日 11:30-22:00
电话:+852 8129 8882
info@pure-red.com
http://www.pure-red.com
<!- Rubicon OS Player --> <!- /Rubicon OS Player -->