others
スペース・イーデ
SPACE iDE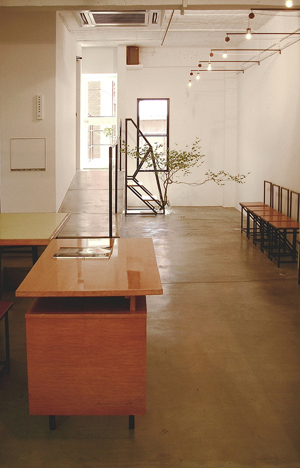 薬院大通駅から徒歩5分、大正通りに面した建物の1階に入っている美容室「iDE(イーデ)」の2階にある「SPACE iDE(スペース・イーデ)」。多目的に利用できる貸しスペースとして2009年4月にオープンしたSPACE iDE is located on the second floor, above the beauty salon 'iDE', which is at Taisho Street, 5 minutes walking distance from the Yakuin Odori Station. It opened in April 2009。美容室の入口に置かれた沢山の観葉植物が目印。美容室入口横の細い階段を上って行くと、大通りの喧噪から隔離されたかのような、静かな空間にたどり着く。



設計を手掛けたのは「クランク/マルチェロ」の藤井健一郎氏。室内はとてもシンプルにまとめられているが、決して無機質ではなく、窓から差し込む光、オブジェのように佇む木製の什器、仄白い裸電球の灯が印象的だ。



平日は15,000円+税、土日祝 25,000円+税 (2014年9月現在)で利用することができる。そのままでも既に魅力的な空間だが、使用者や用途に応じてさらに様々な表情を見せてくれるだろう。



SPACE iDE(スペース・イーデ)
住所:福岡市中央区薬院2-16-16 美容室「iDE」2F
時間:11:00~20:00
TEL:092-762-5667(SPACE iDE) / 092-762-5667(美容室iDE)



Text: Yuki Mine as a renting space available for multi-purpose uses.



Several foliage plants at the entrance are the landmark to the beauty salon. Climbing the narrow stairs at the side of the entrance of the beauty salon will lead you to a quiet space, separated from the noisy main street.



The designer of the space is Kenichiro Fujii of the 'Krank/Marcello'. The interior of the space is very simple but it is anything but inorganic with the impressive light from the window, wooden furnishings that stand still like art pieces and dimly white light from a bare light bulb.



The space is available from 10,500 yen + tax per weekday and 25,000 yen + tax per weekend/holidays (September 2014). It is already an attractive space itself but it will show a variety of appearances depending on the users and the applications.



SPACE iDE
Address: iDE 2F, 2-16-16 Yakuin, Chuo-ku, Fukuoka
Tel: 092-762-5667 (SPACE iDE) / 092-762-5667 (Salon iDE)



Text: Yuki Mine
Translation: Akio Usui空间 iDE
地址:福岡市中央区薬院2-16-16 美容室「iDE」2F
时间:11:00-20:00
电话:092-762-5667(空间 iDE) / 092-762-5667(美容沙龙 iDE)
<!- Rubicon OS Player --> <!- /Rubicon OS Player -->