bar/restaurant
ラゴン
Lagon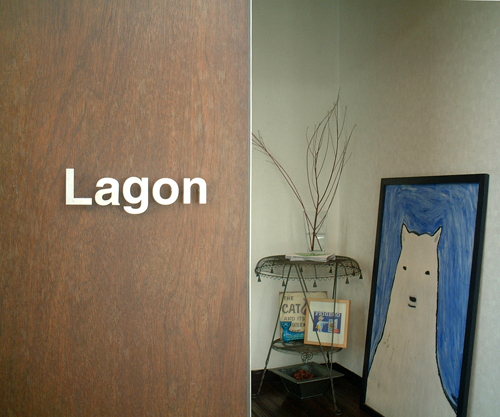 カフェのコンセプトは男の人の部屋というだけあって、インテリアはシンプルでモダン、一見クールな雰囲気。そのカフェを暖かみのあるものにしているのがこの店を営む姉妹の二人It's because the cafe's concept is a man's room, the interior is simple, modern and cool. But the cafe is cozy because the owners are peaceful sisters.



The younger sister's dishes are natural but twisted. The older sister entertains guests friendly and offers comfort.



During the 10-20th of every month, they offer a seasonal dish fair. Their unique idea generates more regular customers and comfortable time.



LAGON
Address: 1F-D, Dobashi Bld., 1-4-7 Hirao, Chuo-ku, Fukuoka
Open: 12:00-14:00, 18:00-24:00 (Sat,Sun,PH 15:00-24:00)
Closed on Wednesday
Tel: 092-521-0322



Text by: Yuko Matono
Translation: Haruka Kibata。
気取らないけれどひとひねりある美味しい料理を作る妹さん、友人の家に遊びに来たようなおもてなしのお姉さん、二人が居心地のいい空気を作っている。
毎月10〜20日には旬の素材を使ったフェアも開催され、毎日来ても楽しめる工夫があるから常連さんが絶えない。思わずくつろいで長居してしまう。



Lagon
住所:福岡市中央区平尾1-4-7 土橋ビル1F-D
時間:ランチ 12:00〜14:00/ディナー 18:00〜24:00(月、火、木、金)
   15:00〜24:00(土、日、祝)※水曜定休
TEL:092-521-0322



Text by: Yuko MatonoLagon
地址:福岡市中央区平尾1-4-7 土橋ビル1F-D
时间:午餐 12:00-14:00/晚餐 18:00-24:00(周一,周二,周四,周五)
   /15:00-24:00(星期六,日及公众假期)
休息便:星期三
电话:092-521-0322
<!- Rubicon OS Player --> <!- /Rubicon OS Player -->