theater
サンマルティン劇場
Teatro San Martin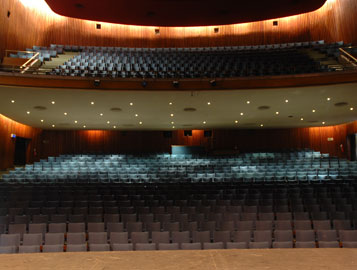 As from 1906 attempts were made to promote a project to "create an official coliseum on whose tables the theatrical art lights would shine年間百万人以上の人々が訪れるサンマルティン劇場は、地上13階、地下4階、式典会場や展示室、映画館、作業室、倉庫など芸術活動における様々な用途に応じて使用できる設備が整った大型劇場施設である。



以前より望まれていた"庶民のための劇場"の設立にブエノス・アイレス市議会が着手したのが1936年。「社会階級に関係なく誰もが利用できる大型大衆劇場を市につくる」という目的を持ってのことだった。同年末、国民劇場の敷地は旧新劇場の敷地へと移され、その後25年間そこで営業していた。しかし1943年6月4日に起きた革命当局により営業権は剥奪され、劇場の公的に認められた土地全体が失われてしまう。だが同年、市行政部が出した法令によりブエノス・アイレス劇場が設立されることとなる。そして1944年、ベルナルド・カナル・フェイホーによる「シルベリオ・レギサモンの情熱と死」の初演と共にブエノス・アイレス市営劇場として生まれ変わったのである。



市営劇場の敷地内にある今日のビルの建設は1954年に着手され、マリオ・ロベルト・アルバレスとマケドニオ・オスカー・ルイズの二人の建築家によるプロジェクトに基づいている。一般公開されたのは1960年5月25日、ちょうど国全体がアルゼンチンを独立へと導いた「五月革命」の150周年記念日を祝っている日であった。
その後、ラテンアメリカにおける最も影響力のある劇場施設として、さらに疑うべくもなく世界でも最も重要な劇場の一つとして、遂にその文化活動の一歩を踏み出したサンマルティン劇場は、その後さらにブエノスアイレス文化における地位を高め、現在街の夜には欠かすことのできない存在となっている。



Teatro San Martin
住所:1530 Corrientes Avenue, Downtown, Buenos Aires
TEL:+54 0800 333 5254
ctba@teatrosanmartin.com.ar
http://www.teatrosanmartin.com.ar



Text: Celeste Najt
Translation: Yuki Mine. After several requests to the legislature for the foundation of such a place, nothing really happened until 1936, when the Buenos Aires City Council set out to create the People's Theatre. The aim of this undertaking was to "allow the city to have a huge popular theatre that would be accessible to all social classes."



At the end of that same year the People's Theatre premises were moved to the ex-New Theatre premises, located on 1530, Corrientes Ave. with a concession for 25 years.
The authorities of the Revolution of June 4th 1943 ended the aforementioned concession and thus the official premises of the Theatre were lost. That same year, by a decree of the Municipal Executive Department, The Buenos Aires City Theatre was created.



After several refurbishments, the Municipal Theatre of Buenos Aires was inaugurated in 1944, with the premiere of the play "Passion and death of Silverio Leguizamón," by Bernardo Canal Feijóo. The construction of the present-day building in the site of the Municipal Theatre — already called General San Martín — began on June 24th 1954 based on a project by architects Mario Roberto Álvarez and Macedonio Oscar Ruiz. It opened to the public on May 25th 1960 (the day when the country was celebrating the sesquicentennial anniversary of the May Revolution) though there were no artistic activities that year. With "Over a century of Argentinean Theatre", a drama, dance, music and ballet show with María Gutierrez, Gloria Ferrandiz and Santiago Gómez Cou, among others, the General San Martín Theatre, the most influential theatrical complex in Latin America and doubtless one of the most important in the world, finally began its cultural activity.



From then onwards the San Martín Theatre has taken up a higher and higher position in the Buenos Aires cultural life. Located in the heart of the city it takes up 30,000 square metres with its façade towards Corrientes Avenue, a must in the Buenos Aires night, and it is visited by over one million people annually. Its structure — comprising three volumes — with thirteen floors and four basements, has three function rooms as well as several exhibition rooms, a cinema, workshops, warehouses and cabinets for the development of the different tasks connected with artistic activities.



Teatro San Martin
Address: 1530 Corrientes Avenue, Downtown, Buenos Aires
Tel: +54 0800 333 5254
ctba@teatrosanmartin.com.ar
http://www.teatrosanmartin.com.ar



Text: Celeste Najt圣马丁剧院
地址:1530 Corrientes Avenue, Downtown, Buenos Aires
电话:+54 0800 333 5254
ctba@teatrosanmartin.com.ar
http://www.teatrosanmartin.com.ar
<!- Rubicon OS Player --> <!- /Rubicon OS Player -->