fashion
スピナ
SPINA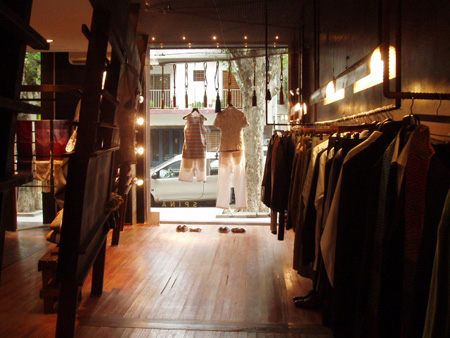 2人の若くて有望なデザイナーによるモダンなブランド「スピナ」。彼らの服はエレガントでスマートだ。するべきことをよく知っているデザイナーである。彼らのショップを通るだけで、彼らのショーを見るだけで、誰もがそう思うだろう。Spina is cool. It's a modern brand created by two young and promising designers who get along wonderfully. Spina is nice. Their clothes are elegant and smart; they surely know what they're doing.しかし2度見てみると、よりわかる。スタイル、衣服、アートを越えて、この2人のクリエイターのことを知り始める。もっと注意深くみると、ソウルが見える。



フラビオとカーラの2人は共に仕立て屋の家に生まれ、従って2つのコンセプトに基づいてこの活動を再現しようと決めた。2つのコンセプトとは、構成主義と脱構築主義。この2つに、皮肉と伝統と仕立て職の原則をミックスし、新しくて現代的、スポーティーなメンズスタイルを作成する。
フラビオとカーラは、物、モデル、デザインに愛着を持っていて、彼らの衣服は彼らの精神、そして彼らの日常的な人生を表わす。私たちは彼らの作品であることを簡単に断言することができるが、その作品はまた彼らの一部分である。対照、コントラストを信じ、全てのものにそれを探す。白と黒、生と死、幻想と現実。



Text: Gisella Natalia Lifchitz
Translation: Yurie Hatano
That's what we might guess just by passing by their store or watching their show. That's what we might think without looking carefully.



Once we look twice, though, we know more than that. We begin to know these two creators beyond their art, their garments and their style. If we look carefully, we can see their souls.



Both Flavio Spina and Carla Cando come from a family of tailors so they decided to recreate this activity based on two concepts: constructivism and deconstruction. From this statement, they mix irony with traditions and rules of tailoring, creating a new contemporary sportive style for men.



Flavio and Carla get attached to things and models and designs, their clothes reveal their spirit and the way they live their everyday lives. We can easily affirm they are their clothes, and the clothes are a part of them. They believe in contrast and they look for it in everything: so there's black-white, life-death, fantasy-reality.



Text: Gisella Natalia Lifchitz
<!- Rubicon OS Player --> <!- /Rubicon OS Player -->