art/design
798プロジェクトスペース
798 Project Space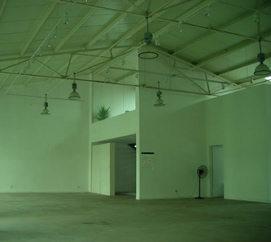 798芸術区内に位置するプラットフォーム・チャイナのギャラリースペース「798プロジェクト・スペース」。798芸術区には同様に北京の重要なアートギャラリーが入居しているPlatform China 's main space is located inside the East End Art Zone A – a newly developed art district in Beijing。
プロジェクト・スペースでは、前衛的な才能あるアーティストをサポートし、実験的なアートプロジェクトを発表している。アーティストのトークショウやディスカッション、ビデオ上映などアートに関するイベントも開催している。



798 Project Space
住所:798 Art District, No.4 Jiuxianqiao Road , Chaoyang District, Beijing
時間:11:00〜18:00(月曜定休)
TEL:+86 10 6432 0091
http://www.798space.com. It is only ten minutes away from 798 Art District and its neighbours including CAAW, F2 Gallery, Courtyard Gallery, L.A. Gallery, Galerie Urs Meile, Caochangdi Work Station, Universal Studios, PKM Gallery and several other important galleries and art spaces in Beijing. Platform China has two exhibition spaces (1,100sq.m) – Space A and Space B – each with ceilings more than 6 meters high.



Platform China 798 Project Space is situated inside the centre of 798 Art District with an exhibition space (80sq.m) and a yard (60sq.m). As the communicating window for Platform China inside 798, the Project Space supports and introduces smaller scale avant-garde and experimental art projects. It will also regularly host artist' talks, discussions and video presentations through which the artistic content, as well as the subject matter and point of view of the artist, are articulated.



Until now Platform China has developed six working/living studios and plans to open more. Two are located inside East End Art, just beside Platform China 's main exhibition spaces. Another four are located inside the 798 Art District. Each studio is about 70sq.m -90sq.m with equipment and facilities.



798 Project Space
Address: 798 Art District, No.4 Jiuxianqiao Road , Chaoyang District, Beijing
Open: 11:00-18:00 (Closed on Monday)
Tel: +86 10 6432 0091
http://www.798space.com/index_en.asp



798项目空间
地址:北京市朝阳区酒仙桥路4号798艺术区
开放时间:11:00-18:00(星期一休息)
电话:+86 10 6432 0091
http://www.798space.com
<!- Rubicon OS Player --> <!- /Rubicon OS Player -->