art/design
シュアラ
Shuala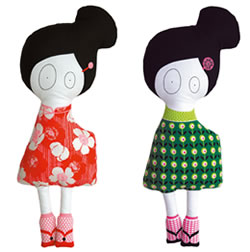 シュアラはクリスチャンとカリン、2人のデザイナーによって2003年チューリッヒに出来た小さなブティック。チューリッヒ造形美術館の横にあり、チューリッヒの創造的な街の中心に位置するシュアラは'Shuala – everyday luxury' founded 2003 by the two designers Karin Birchler and Christian Baumle from Zurich, Switzerland. This tiny boutique located inノート、Tシャツなどを制作、アクセサリーや食器など数多くの商品が揃っている。



Shuala
住所:Josefstrasse 46, 8005 Zürich
時間:火〜金 13:00〜18:00/土曜 12:00〜16:00
TEL:+41 44 271 60 00
shop@shuala.com
http://www.shuala.com the middle of Zurich's creative town part next to the 'Museum für Gestaltung' is a concept store about cheerful products from notebooks to t-shirts, selected tableware to illustrative accessories and many more. All fine selected from the graphical mind of the two designers who own the labels 'Suza Lee', 'depot5' and 'Combo Design'.



Make your day with hot trendy designer labels like 'La Cerise sur le Gateau', 'Atelier LCZ', 'Madame Mo' (all from Paris), GreenGate from Denmark, 'Eclectick' Budapest/Hungary, 'Trust your smile' from Switzerland next to many non labeled fancy stuff far away from the mainstream.



Shuala
Address: Josefstrasse 46, 8005 Zürich
Open: Tue-Fri 13:00-18:00 / Sat 12:00-16:00
Tel: +41 44 271 60 00
shop@shuala.com
http://www.shuala.comShuala
地址:Josefstrasse 46, 8005 Zürich
时间:星期二至星期五 13:00-18:00/星期六12:00-16:00
电话:+41 44 271 60 00
shop@shuala.com
http://www.shuala.com
<!- Rubicon OS Player --> <!- /Rubicon OS Player -->