art/design
ストランドダッド・クロステルヌバーグ
Strandbad Klosterneuburg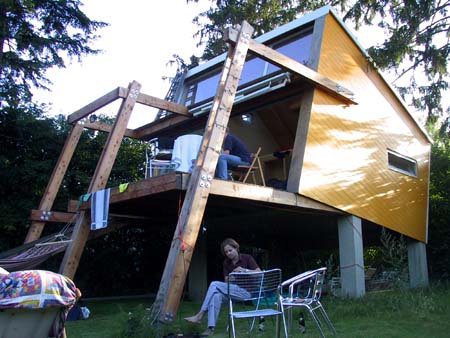 ドナウ川に浮かぶドナウ島は、ウィーン市内では最大規模のレクレーション広場で、夏の間はもっとも人で賑わう場所だ。しかし、そんなドナウ川の喧噪を離れると、意外にも穴場的なスポットがいくつかある。Vienna's large recreational area on river Danube, no doubt are the most frequented places during the hot summer months.
ストランドダッド・クロステルヌバーグは、ウィーン市民にとっては週末にちょっと脚を運び、リラックスした時間を過ごせる場所だ。ストランドダッド・クロステルヌバーグの川の畔に、現代風の小さな家に住む30歳のローマ人男性がいるのだが、彼によると、朝目を覚ます度に、自分は違う世界へ迷い込んでしまったのではないかと疑ってしまうほどだそうだ。



ここに、そんな家を低予算で建ててしまった建築家のグループがいる。先に述べたローマ人男性の家を建てたのも彼ら。トーマスとクラウスという。常に自分達の作品には自信を持っている、という彼ら。どこにでもあるような川辺に、傑出した小屋を建てるのは彼らの長年の夢だったとか。写真からも、どれだけ彼らが素晴らしい家を建ててきたのかが伺えることだろう。



その評判はすぐに広く知れ渡り、そのローマ人男性の型破りな家も、地上1.7mの場所に建設。敷地面積は35・。開放感のある居間、台所、風呂場を1階に設置し、2階に寝室を設ける。寝室から見えるのは空だけ。そこに横たわると、まるで空を飛んでいるかのような気分になるというわけだ。



居間にある窓を開くとテラスへと続き、更に大きな空間へ。テラスからは、階段のようにデザインされた傾斜路があり、それを下ると川の水を感じることができるのだ。地形そのものが、家の裏側、入り口、そして川へといった3次元の動きを可能なものにしたのである。



Strandbad Klosterneuburg
住所:Georg Cochplatz 3/8, A-1010 Wien
TEL:+43 1 512 71 42
office@hoppe.at
http://www.hoppe.at



Text: Christina Merl
Photos: Klaus Olbrich
Translation: Sachiko Kurashina
However, a lucky few leave the city for their riverside huts on the shores of some sidearms of river Danube. Strandbad Klosterneuburg is one such place where people from Vienna relax and have fun in the weekends. Among them 30 year-old Roman, who always has the feeling he's in a different world when he wakes up in his modern-style riverside hut in Strandbad Klosterneuburg.



The other day I met two of the architectural team that designed and realised the low-budget "beach house" for their friend. Enter Thomas and Klaus, who have every reason to be proud of their work: what they wanted was to realise some outstanding design in the midst of rather conventional riverside huts. And if you take a closer look at the pictures you surely will agree that they've succeeded.



Due to building regulations in this frequently flooded area the unconventional object was built on 1.7 metre-high columns above the ground. The volume develops on a maximum footprint of 35 square metres. It contains an open living space, a cooking area, and a bathroom block above which there's the sleeping area with a skylight that gives you the impression of flying in the sky.



The sloping glass facade can be opened by a sliding door which expands the living area to the terrace. From there a ramp – partly designed as a stair – leads through the site directly into the water. The whole configuration creates a three-dimensional movement from the site's back entrance to the river.



Strandbad Klosterneuburg
Address:Georg Cochplatz 3/8, A-1010 Wien
Tel: +43 1 512 71 42
office@hoppe.at
http://www.hoppe.at



Text: Christina Merl
Photos: Klaus OlbrichKlosterneuburg海滩
地址:Georg Cochplatz 3/8, A-1010 Wien
电话:+43 1 512 71 42
office@hoppe.at
http://www.hoppe.at
<!- Rubicon OS Player --> <!- /Rubicon OS Player -->