music
リズ
RHIZ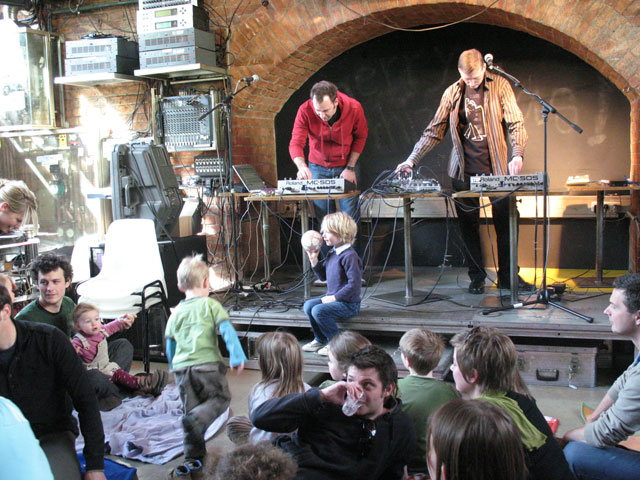 リズは社会的構造、特にニューメディアと言われる永続的に変化し続けている形式に対しする緩衝材となっている。オーストリアや国際的ミュージシャンのコンサート、新プロジェクトのプラットフォームRhiz is a junction inbetween the structure of society and in particular inbetween the net of all kinds of the so called new media which is permanently growing、エレクトロニックミュージックの実験、フィルム、ビデオプレゼンテーション、DJプログラム、インターネットカフェとして運用されている。
リズウェブでは、mp3ストリーミングや、mp3アーカイブ、ウェブカム、プログラム情報やメーリングリストや、イベントに対してコメントを残すことも可能。イベントスケジュール情報は、サイトでチェックできる。



RHIZ
住所:Guertelbogen 37&38, 1080 Wien
時間:月曜〜土曜 18:00〜4:00/日曜日 18:00〜2:00
TEL:+43 1 409 25 05
http://rhiz.org



Translation: Kazunari Hongo, condensing and shifting. being situated locally in Vienna rhiz is at the same time present virtually which gives opportunity of being faster in any movement means acting, reacting and referring to the development of any kind of 'entertaining media'. new ideas can be transported/transformed faster and can reach a bigger and as well fairly distributed audience.



Rhiz bar concerts of austrian and international musicians, platform for new projects and experiments in electronic music. film- and video presentations. daily dj program. internetcafe.



Rhiz web contains of mp3 stream, mp3 archive, webcam, program information and mailing lists. posting comments concerning certain events is possible as well. program information via WAP.



Rhiz records the record label rhiz records releases cds of rhiz-related artists which are internationally distributed.



RHIZ
Address: Guertelbogen 37&38, 1080 Wien
Open: Mon-Sat 18:00-4:00 / Sun 18:00-2:00
Tel: +43 1 409 25 05
http://rhiz.orgRHIZ
地址:Guertelbogen 37&38, 1080 Wien
时间:星期一至星期六18:00-4:00/星期日18:00-2:00
电话:+43 1 409 25 05
http://rhiz.org
<!- Rubicon OS Player --> <!- /Rubicon OS Player -->