bar/restaurant
ピンク・カウ
The Pink Cow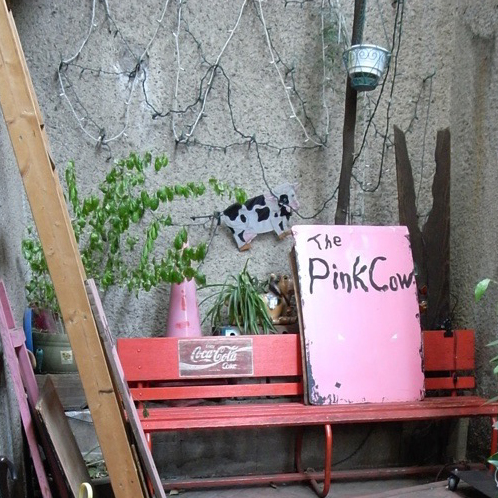 画家の女性オーナーが美術スタジオをやっていたころに、いろいろな人が出入りするようになり、彼らに料理を振舞い始めたのがこの店の始まりだ。渋谷の路地の地下にあり、知らない人は通り過ぎてしまうかもしれないその場所で、人との出会いと交流を愉しむサロン的なレストランバーとしてその店はある。When the owner was an artist and had an art studio, many people came in and out. She started serving dishes them, and that was the beginning of this restaurant. The restaurant is placed in the basement of alley in Shibuya, where people who don't know about the place might pass by.客が各テーブルを自由に移動できるよう支払いはすべてキャッシュオンシステム。また毎月行われているさまざまなイベントには、お酒を飲みながら編み物を愉しむニットバーや「ジャンベ」というアフリカ系伝統楽器のライブ、IT系の情報交換の場としてバイリンガルでのビジネスミーティングなど、幅広い。この店のユニークさは、イベントの多くがこの店に集う客のネットワークから自発的に行われていることだろう。



メニューはブラックビーンズ・チーズ・サルサ・アボガドディップで包んだ「ビーン&チーズブリトー」(1,470円)が人気だ。女性なら二人で一皿をシェアできるボリューム。ドリンクはカリフォルニアワインを中心としたアルコールが600円から揃っている。



オーナーが酔って、牛がピンクに見えたことからつけられたネーミング「ピンク・カウ」。
国籍も性別もさまざまな人が行き交うこの場所で "Grazing Experience"を体感して!



The Pink Cow
住所:東京都渋谷区渋谷1-3-18 ビラモデルナBIF
時間:17:00〜深夜(月曜定休)
TEL:03-3406-5597
cowmail@thepinkcow.com
http://www.thepinkcow.com
It is a restaurant bar like a salon to enjoy communicating and meeting people.



All the payment is collected on delivery so that customers can freely move between tables.
Also, this restaurant presents very wide monthly events including the Knit bar to enjoy drinking and knitting, the live show of African traditional instrument "Djembe", and even the bilingual business meeting to exchange information about IT. The uniqueness of this restaurant is that most of those events are voluntarily done by customers .



The recommend dish is "Beans & Cheese Burrito" (1,470yen with tax) of which black beans, cheese, salsa sauce and avocado dip are wrapped. If you are a small eater, you can share the one dish with a friend. It has also alcohol menu mainly of California wines, and the price is from 600yen.



The restaurant name "The Pink Cow" came from when the owner got drunk and looked like a cow in pink. Feel the "Grazing Experience" at this restaurant where people from various nationalities visit!



The Pink Cow
Address: 1-3-18 Shibuya, Shibuya-ku, Tokyo
Open: 17:00- (Closed on Monday)
Tel: 03-3406-5597
cowmail@thepinkcow.com
http://www.thepinkcow.com



Text and photo: mina粉红色牛
地址:東京都渋谷区渋谷1-3-18 ビラモデルナBIF
时间:17:00-直到午夜
休息日:星期一
电话:03-3406-5597
cowmail@thepinkcow.com
http://www.thepinkcow.com
<!- Rubicon OS Player --> <!- /Rubicon OS Player -->