art/design
SHIBUYA PUBLISHING & BOOKSELLERS
SHIBUYA PUBLISHING & BOOKSELLERS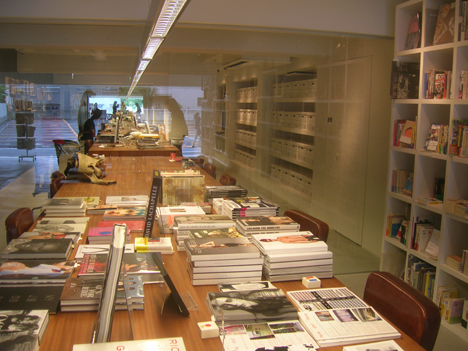 東京・渋谷に今年1月にオープンした「SHIBUYA PUBLISHING & BOOKSELLERS」は、その名が示す通り、本が買えるだけでなく、出版機能も兼ね備えた一風変わった本屋。SHIBUYA PUBLISHING & BOOKSELLERS is a unique book shop has publishing function opened in Shibuya, Tokyo at January 2008.

そこでは、本を作る編集の現場そのものが外から見ることができるような店の作りになっており、パン屋がパンを焼いてそれをその店で売るように、編集されたばかりの新鮮な状態の本を店頭に届けようというのがコンセプトだ。



内装を手がけたのは、今、若手で最も注目されている建築家の内の一人、「NAP」の中村拓志氏。店内に置かれている本は、「TSUTAYA TOKYO ROPPOINGI」、「CIBONE」などのブックセレクションで知られる「BACH」の幅允孝氏がセレクトした。



SHIBUYA PUBLISHING & BOOKSELLERS
住所:東京都渋谷区神山町17-3
時間:15:00~24:00(不定休)
TEL:03-5465-0588
http://www.shibuyabooks.net



Text and photos: Wakana Kawahito
It can be seen the progress of making books and magazines from the shop. The concept of shop is that books are created and sold when it is just edited as like bread is made and sold at bakery.



Hiroshi Nakamura at the NAP ARCHITECTS, CO,.LTD, who is one of the most remarkable young architects is designed interior, and all books in the shop are selected Yoshitaka Haba at BACH inc.



SHIBUYA PUBLISHING & BOOKSELLERS
Address: 17-3 Kamiyama-cho, Shibuya-ku, Tokyo
Open: 15:00-24:00 (non-regular holiday)
Tel: 03-5465-0577
http://www.shibuyabooks.net



Text and photos: Wakana Kawahito涩谷 出版&书店
地址:東京都渋谷区神山町17-3
时间:15:00-24:00
休息日:不规则
电话:03-5465-0588
http://www.shibuyabooks.net



Text and photos: Wakana Kawahito
<!- Rubicon OS Player --> <!- /Rubicon OS Player -->