art/design
NTTインターコミュニケーション・センター [ICC]
NTT InterCommunication Center [ICC]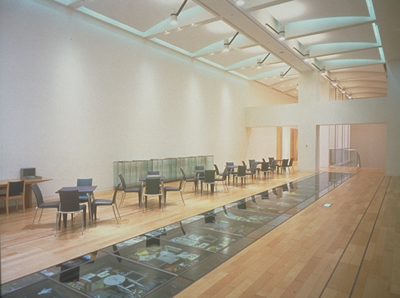 NTTインターコミュニケーション・センター(略称:ICC)は,日本の電話事業100周年(1990年)の記念事業として,1997年4月19日,東京/西新宿・東京オペラシティタワーにオープンした文化施設です。NTT InterCommunication Center [ICC] is an innovative cultural facility in Tokyo Opera City Tower in Nishi-Shinjuku, Tokyo, which was established on April 19, 1997, in commemoration of the 100th anniversary of telephone service in Japan (1990).ICCの基本構想の検討は既に1990年にスタートしており,施設オープンまで8年近い歳月を要しています.この間,ICCはアート&サイエンスにかかわる多くのイヴェントを行なってきたほか,情報発信のための機関誌を発行し,それらの成果と蓄積を踏まえ,施設のオープンに至りました.



ICCは「コミュニケーション」というテーマを軸に科学技術と芸術文化の対話を促進し,豊かな未来社会を構想していきたいと考えています.また,こうした対話を通してアーティストやサイエンティストを世界的に結び付けるネットワークや,情報交流の拠点(センター)となることも目指しています.



オープン以来,展覧会活動では,ヴァーチャル・リアリティやインタラクティヴ技術などの最先端電子テクノロジーを使ったメディア・アート作品を紹介してきた他,従来の形式や分類を超えた企画展を開催してきました.
また,作品展示にとどまらず,ワークショップ,パフォーマンス,シンポジウム,ニュースクールあるいは出版といった様々なプログラムを通じ,従来の枠組みにとらわれない実験的な試みや新しい表現,コミュニケーションの可能性について紹介しています.



ICCにひとりでも多くの方が訪れ,先進的なアーティストの活動に出会い,交流することによって新時代の科学と芸術の流れを感じ取っていただくことを願っております.



NTTインターコミュニケーション・センター [ICC]
住所:東京都新宿区西新宿3-20-2 東京オペラシティタワー4階
時間:10:00〜18:00
TEL:0120-144199
query@ntticc.or.jp
http://www.ntticc.or.jpFrom the launch of the basic ICC concept in 1990, it has taken nearly eight years until the opening of the facility. During this period, ICC held a variety of events concerning the arts and science, and continued to publish quarterly journals to distribute information. The fruits of these activities provided the groundwork for ICC to open its doors.



ICC wishes to encourage the dialogue between technology and the arts with a core theme of "communication," thereby building an affluent society for the future. Through such dialogue, it also aims to become a network that links artists and scientists worldwide, as well as a center for information exchange.



Since its opening, ICC has been actively introducing media art works which employ the newest electronic technologies such as virtual reality and interactive technology. Special exhibitions which break with conventional frameworks and transcend genres have also been held. However, ICC's activities are not limited to these exhibitions. Through various programs such as workshops, performances, symposiums, NewSchool, and publishing, ICC will continue to introduce new forms of expression and experimental attempts which are unbridled from conventional frameworks, and explore further possibilities of communication.



It is our sincere wish that ICC receives a large number of visitors and that every visitor can encounter the activities of cutting-edge artists, meet them, and feel the stream of science and the arts in the new era.



NTT InterCommunication Center [ICC]
Address: 4F Tokyo Opera City Tower, 3-20-1 Nishishinjuku, Shinjuku-ku, Tokyo
Open: 10:00-18:00
Tel: 0120-144199
query@ntticc.or.jp
http://www.ntticc.or.jp日本NTT对讲中心[ICC]
地址:東京都新宿区西新宿3-20-2 東京オペラシティタワー4階
时间:10:00-18:00
电话:0120-144199
query@ntticc.or.jp
http://www.ntticc.or.jp
<!- Rubicon OS Player --> <!- /Rubicon OS Player -->