theater
エスプラネード
Esplanade – Theatres on the Bay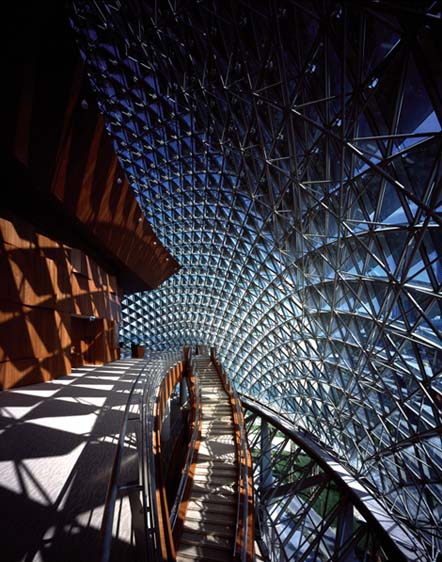 シンガポールのアートシーンに、新しい場所がオープンした。シンガポールをアートの中心地にしてしまおう、という目的の下に成長を続けるアートシーン。増え続ける需要とオーディエンスの複雑化に対応せざるをえないことは免れないEsplanade – Theatres on the Bay is one of the world's busiest arts centres, officially opened on 12 October 2002. 。エスプラネードは、湾岸に建つシンガポールを代表する存在だ。



建築費6億シンガポールドルが注ぎ込まれたこのエスプラネード。劇場、リサイタルスタジオ、そしてコンサートホールまで、さまざまなパフォーマンススペースを提供。音響効果も世界クラス。パフォーマンスをするには、シンガポールでベストであると言ってもいいだろう。



ドリアンと呼ばれているエスプラネードは(果物のドリアン自体も果物の王様でもあるが)、まるでとげが生えた太陽の影のようである。この存在もすぐに受け入れられるだろうし、その前で写真を撮る人の姿も増えるだろう。アートの中心的存在として、散発的な地元のアートシーンを発表できるかどうかが問題視されるところ。しかしエスプラネードは、まさに王様になるべく雰囲気を感じさせているのだ。



Esplanade – Theatres on the Bay
住所:1 Esplanade Drive, Singapore 03898
TEL:+65 6828 8360
http://www.esplanade.com



Text: Fann ZJ From npsea Enterprise
Translation: Sachiko KurashinaThis architectural icon with its distinctive twin shells, is sited within Singapore's civic district, just by Marina Bay at the mouth of the Singapore River.



Esplanade aims to be a performing arts centre for everyone, and its programmes cater to its diverse audiences. Its programme line-up spans all genres to encompass music, dance, theatre and visual arts, with a special emphasis on Asian culture.



Esplanade houses world-class performance spaces, supported by a comprehensive range of professional support facilities and services. Its two main venues are the 1,600-seat Concert Hall, with acoustics by Russell Johnson of ARTEC Consultants, and the 2,000-seat theatre, an adaptation of traditional European opera houses in horseshoe form.



In the past year, Esplanade has welcomed over seven million visitors and presented more than 1,800 performances.



Esplanade won the prestigious inaugural President's Design Award 2006, Singapore's most coveted design award



Esplanade – Theatres on the Bay
Address: 1 Esplanade Drive, Singapore 03898
Tel: +65 6828 8360
http://www.esplanade.com



滨海艺术中心
地址:1 Esplanade Drive, Singapore 03898
电话:+65 6828 8360
http://www.esplanade.com
<!- Rubicon OS Player --> <!- /Rubicon OS Player -->