hotel
ニュー・マジェスティック・ホテル
New Majestic Hotel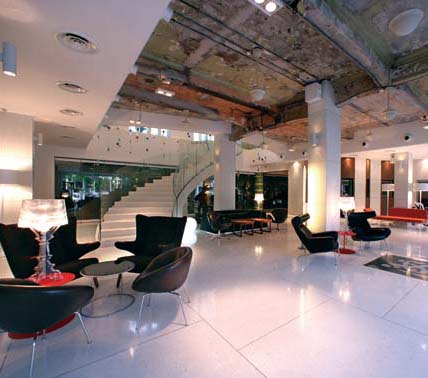 30室の室数があるニュー・マジェスティック・ホテルは時代の精神を探るホテルだ。個性的で本物の新しいグローバルなホテルを求めている消費者への反応、革新的で国際的なデザイン、またそれに伴うデザインプロセスを再定義しThe 30-room New Majestic Hotel explores and defines a zeitgeist or the spirit of our times. A response to the new global hotel、そしてシンガポールをインターナショナルホスピタリティデザインの革新者として位置付けている。既存のものやと歴史的背景をヒントに、ホテルの敷地や近隣を尊重したホテルの設計は、ミニストリー・オブ・デザイン(MOD)によるもの。また、客室やホテル敷地内にはインスタレーション作品が仕掛けられている。



New Majestic Hotel
住所:31-37 Bukit Pasoh Road, Singapore 089845
TEL:+65 6511 4700
reservation@newmajestichotel.com
http://www.newmajestichotel.com consumer's appetite for distinctive & authentic experiences, the progressive design redefines both Hotel Design and the accompanying Design Process, establishing Singapore as an innovator on the International Hospitality Design map.



Respectful of the site's Conservation Shophouses & surrounding neighbourhood, Ministry of Design (MOD)'s design response takes its cue from the existing physical and historical context. Selected key elements are preserved or transformed, then infused or contrasted with the new – keeping a balance between pure preservation and total erasure.



A collection of site-specific installation art infuse both public areas & rooms. In the rooms, MOD has tailored spaces for installation art. For example, art in the Mirror rooms can be read only through the reflection of the mirrors, art in interconnected Aquarium rooms form a running narrative and in the Hanging Bed Rooms, the art takes the place of both the conventional requisite bed-head and decorative art piece.



MOD worked collaboratively with 2 other key creatives, DP Architects and Asian Arts Options (who coordinated all the artists involved), and has won the prestigious inaugural President's Design Award 2006, Singapore's most coveted design award for it's project New Majestic Hotel.



New Majestic Hotel
Address: 31-37 Bukit Pasoh Road, Singapore 089845
Tel: +65 6511 4700
reservation@newmajestichotel.com
http://www.newmajestichotel.com



新大华酒店
地址:31-37 Bukit Pasoh Road, Singapore 089845
电话:+65 6511 4700
reservation@newmajestichotel.com
http://www.newmajestichotel.com
<!- Rubicon OS Player --> <!- /Rubicon OS Player -->