fashion
アクチュアリー
Actually…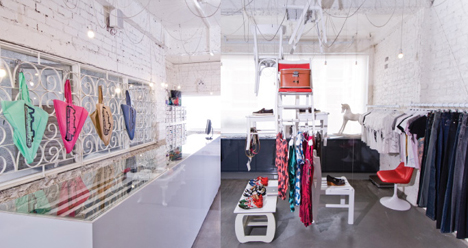 「アクチュアリー…」は最高のプレミアムジーンズ、バッグ、Tシャツなどを扱うコンセプトファッションストアである。他の様々なブランドを扱う店との違いは、その個性にあるActually… is a concept fashion store that brings you killer premium jeans, bags, tees and things. What sets Actually… apart from other multi-brand stores is its personality.
。
店の名前通り、そこにはいつも聞き手との何気ないが率直な会話が(話題は常に変化し観点は発展しながら)交わされている。とっておきが入った吊り下げられた引き出しに、宙に浮いた机にはとびっきりの掘り出し物。「アクチュアリー…」の一癖ある個性はそのアイデンティティーや店内に現れている。
一番は何といってもジーンズ。品揃えは広く、有名ブランドのものから手染めのものまで様々だ。ふとした何気ないお喋りのように、幅広い若者向けのとても個性的で面白い商品が揃っている。
ショップデザインは、ミニストリー・オブ・デザイン(MOD)によるもの。2006年のシンガポールインテリアデザイン連盟と日本ペイントによる「Colour My World」を受賞している。



Actually…
住所:29a Seah Street, Singapore
時間:12:00〜21:00/土曜 14:00〜21:00/日曜 14:00〜19:00
TEL:+65 6336 7298
info@actually.com.sg
http://www.actually.com.sg



Translation: Yuki MineAs the name of the store suggests, it is constantly engaging in a casual but honest conversation with its audience – ever changing and ever evolving in the topics and points-of-views. It has its own unique sense of humor, its own set of emotions, and tends to be a tad crazy. Actually…'s quirky personality is reflected in its shop identity and interior.



Actually…'s first love is Jeans! The selection is wild and its more then just the pretty ones that gets showcased… there are the superbly cut ones, the handmade hand-dyed ones, the stiff ones, the soft ones and even the famously named ones!



Like an unpredictable banter, Actually… also traffics an eclectic range of extremely interesting products for guys and gals from the peculiar tees by Uncle Kimono to the wonderfully innovative folders and iPod holders of Furoshiki Shiki, and to the ingenious recycled cult bags by Freitag. THEMES are also introduced periodically to celebrate related products and fashion exclusives.



With suspended drawers of goodies and floating tables full of rare finds, all the merchandise are curated to Actually…'s stirring personality… you never know what you are gonna find!



Designed by Design Director Colin Seah of Ministry of Design, this eclectic retail store also won the coveted 2006 "Colour My World" Award by IDCS & Nippon Paint, for MOD.



Actually…
Address: 29a Seah Street, Singapore
Open: 12:00-21:00 / Sat 14:00-21:00 / Sun 14:00-19:00
Tel: +65 6336 7298
info@actually.com.sg
http://www.actually.com.sg



其实
地址:29a Seah Street, Singapore
开放时间:12:00-21:00,星期六14:00-21:00,星期日14:00-19:00
电话:+65 6336 7298
info@actually.com.sg
http://www.actually.com.sg
<!- Rubicon OS Player --> <!- /Rubicon OS Player -->