art/design
ハイプ・ギャラリー
HYPE GALERY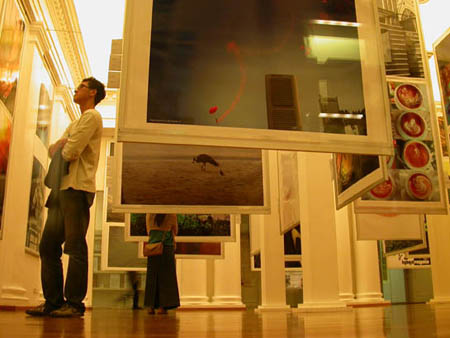 床から浮いた絵がつり下がっている。日常の際立った風景。精神の内側にあるイマジネーションの奥底から湧き出る、超現実主義的観点からの複雑なイメージSuspended frames floating high above the ground. Striking images of everyday life. Perplexing images of surreal dimensions from the depths within。誰でもそれに参加できる。わたしもあなたも、作品を展示してその空間を使うことができるのだ。そして、もしそのスペースがいっぱいであるならば、デジタルの世界に作品は漂う。



「ハイプ・ギャラリー」はカメラマンや映画監督を始めとしたアーティストの作品を無料で提供している場である。ロンドンで最初に始まったこのユニークなギャラリーがこの度アジアに初上陸。それはパリへと広まり、今やシンガポールに。これは、多量なフォーマットプリントを使いながら、リアルなギャラリーが一杯の時には、作品がインターネット上で展示されるという仕組みである。



ハイプギャラリーは地元のアートシーンへの刺激剤、作品発表の場が欲しいアーティストへの展示の機会の提供、地域社会についての意見交換や考察としての場といった役割を果たす。



写真から、グラフィックデザイン、グラフィティまで、主題は、整然と並んだショップハウス(店兼住居の建物)によく見られる伝統的な中国語を含み、通りに溢れたグラフィティによって街のネオンは彩られている。実際、それは通常のギャラリーを超えて街の概観を伝えているのだ。人は移動し、絶え間なく変化し、二つと無い街のダイナミックさを発信し続けている。



HYPE Gallery
住所:The Arts House, 1 Old Parliament Lane, Singapore
http://www.hypegallery.com/



Text and Photos: Fann ZJ from npsea Enterprise
Translation: Kawahito Wakana the inner mind of imagination. Anyone can be a part of it. Both you and I can hang our work and contribute to the space. If it is full, our contribution suspends itself in the digital realm.



You see, HYPE Gallery showcases any artist, photographer and filmmaker's work for free. The first ever HYPE Gallery in Asia, this unique showcase first began in London, making its way to Paris and now to Singapore. Using large format printing, works are placed on display and transferred onto the web when the physical gallery is full.



HYPE Gallery presents a slice of the local arts scene, creating a platform for aspiring artists to showcase, get feedback and ponder about the community that they belong to.



From photography, graphic design to graffiti, subjects include a heap of traditional Chinese characters commonly seen on shop houses being disposed, neon coloured street graffiti to scenery of the city. Indeed it provides a view of the city from beyond the normal gallery. One that shifts and is constantly changing, adding to create dynamism not unlike the city.



HYPE Gallery
Address: The Arts House, 1 Old Parliament Lane, Singapore
http://www.hypegallery.com



Text and Photos: Fann ZJ from npsea Enterprise



宣传画廊
地址:The Arts House, 1 Old Parliament Lane, Singapore
http://www.hypegallery.com
<!- Rubicon OS Player --> <!- /Rubicon OS Player -->