bar/restaurant
醇泉
JUNSEN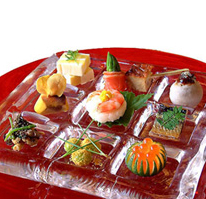 これまで様々な賞に輝き、元禄時代より銘酒の数々を生み出した「勝山酒蔵」直営の日本料理店「醇泉」。店内は躍動的なダイヤのモチーフと赤、黒、金のテーマカラーが醸し出すモダンなしつらえ。伊達な粋を感じさせる個性的な個室とカウンターJUNSEN is a Japanese cuisine restaurant where is directly managed by "Katsuyama Shuzou", a sake brewery that produced many brand sake from Genroku period (around late 17th century)席は、どちらも落ち着ける"隠れ家的"なスペース。



三陸の鮮魚介を中心に山・野・里の新鮮な旬の味覚を取り揃えており、伝統の技と吟味された素材の奏でる四季の趣も華やかな会席料理を銘酒勝山と共に堪能できる。



昼は、11:30〜14:00オーダーストップ。醇泉御膳 2,500円、昼の会席料理《要予約》 5,250円より。夜は、17:30〜20:30オーダーストップ。親方おすすめ 「酒の肴セット」 2,500円より、食事は、4,500円より。



醇泉
住所:仙台市青葉区上杉2-1-50 仙台 勝山館 1F
TEL:022-213-9188
http://www.shozankan.com and won prizes many times.



The interior is designed with lively diamond motifs and the theme colors of red, black and gold which together create a modern atmosphere. You will sit down in the comfortable "hideout" space of either the counter seat or the stylish private room.



Seafood from Sanriku area and seasonal fresh ingredients from mountains and woods are cooked. Enjoy the Japanese traditional cuisine with the brand sake Katsuyama.



Lunch starts from 11:30 to 14:00. Lunch set of dishes start from 2,500 yen. Dinner starts from 17:30 and stops orders at 20:30. Appetizer plate starts from 2,500 yen. Dinner dishes from 4,500 yen.



JUNSEN
Address: 1F Shozankan, 2-1-50 Uesugi, Aoi-ku, Sendai
Tel: 022-213-9188
http://www.shozankan.com醇泉
地址:仙台市青葉区上杉2-1-50 仙台 勝山館 1F
电话:022-213-9188
http://www.shozankan.com
<!- Rubicon OS Player --> <!- /Rubicon OS Player -->