art/design
インターナショナル
international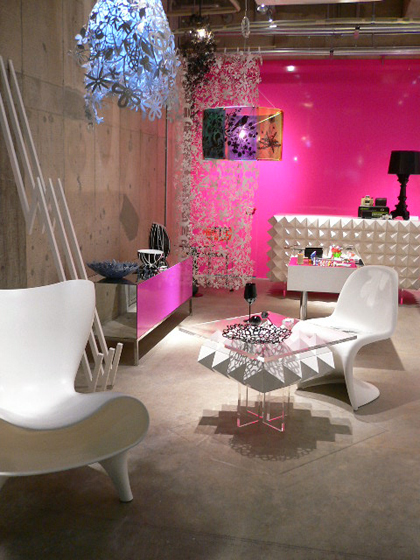 木村浩一郎が代表を務める「アート・クラフト」のオリジナル商品を中心に、「人とモノとのさらに進化した関係を創造すること」をテーマにアートからインテリアに至るまで、独自のセレクトで世界の"今"のインテリアシーンを紹介している"International" is an interior shop by Koichiro Kimura, the head of "Art Craft". The world "current" interior scenes are introduced with his original selection, from art to interior works with a theme "to create newly-evolved relation between human beings and things"インテリアショップ。



木村浩一郎は、1963年宮城県仙台市生まれ。オリジナルブランド「koichiro kimura」、「art・craft japan」デザイナー。日本の伝統芸術である漆塗りをベースに、独自の色世界を表現したテーブルウェア、家具などのデザイン、制作からアート、ショップデザイン、建築に至るまで世界をフィールドに活動している。



「アヴァンギャルドでなければ面白くない」を常に口にするデザイン哲学は、欧米諸国の先駆的セレクトショップなどから高く評価され、数々のオファーを受けている。国内外で数多くの国際デザイン賞を受賞し、まさに、世界から最も注目されているアーティストの一人だ。



international
住所:仙台市青葉区立町13-26
時間:11:00-19:30
TEL:022-223-3267
info@love-international.jp
http://www.love-international.jp, including "Art Craft" original products.



Koichiro Kimura was born in Sendai, Miyagi in 1963. A designer of an original brand "koichiro kimura" and "art craft japan". He is working for design and production of such as furniture and table ware with his original color world, based on Japanese lacquer.



Saying all the time "it's not interesting other than avant-garde", his design philosophy has been highly appreciated by trailblazing select shops in Western countries. He also won many design prizes in Japan, and definitely one of the most notable artists in the world.



international
Address: 26-13 Tachimachi, Aoba-ku, Sendai
Open: 11:00-19:30
Tel: 022-223-3267
info@love-international.jp
http://www.love-international.jp国际
地址:仙台市青葉区立町13-26
时间:11:00-19:30
电话:022-223-3267
info@love-international.jp
http://www.love-international.jp
<!- Rubicon OS Player --> <!- /Rubicon OS Player -->