art/design
ザ・ヴェラ・プロジェクト
The Vera Project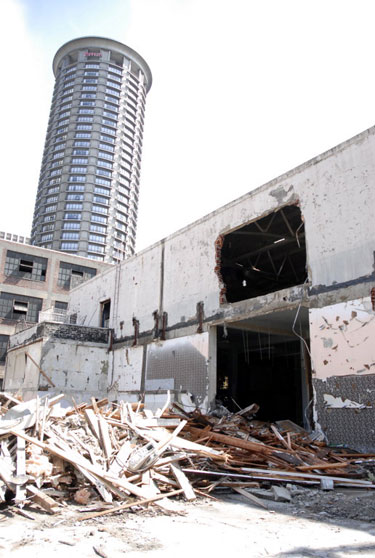 The Vera Project (Vera) is what every teenager wants, a music-arts center run by and for youth. By engaging participants at all levels of music production and community organizing,「ヴェラ・プロジェクト」は、若者による若者のためのミュージック・アート・センターである。参加者が一貫して音楽制作と組織のオーガナイズを担当し、「シアトルの若者との協力の下開催するポップ・ミュージックという手段を通して、個人とコミュニティの変化を促していく」という使命を達成しようとしている。
2000年の開始より、「ヴェラ」は、シアトルの若者の音楽コミュニティを支援してきた。利益目的のエンターテイメントではなく、パフォーマーとスタッフ、そして見ている人の垣根を越えてあらゆる年代の人が集まり、音楽を体験出来る安全で酒・タバコ禁止の空間を維持し続けてきた。



The Vera Project
住所:Republican & Warren Ave N, Seattle, WA 98109
TEL:+1 206 956 8372
http://www.theveraproject.org Vera strives to fulfill its mission to fuel personal and community transformation through the vehicle of popular music shows produced in partnership with young people in Seattle.



Since its inception in 2000, Vera has provided a unique resource to Seattle's youth and music community by maintaining a safe, alcohol-and-smoke free environment for people of all ages to come together and experience music in a way that transcends commercial entertainment and erases divisions between performer, staff and audience.



Vera is thrilled to build a long-term home in Seattle Center's Snoqualmie Room, creating an enduring cultural center for Seattle's youth to find arts, music and, community. This 6500 square foot room serves as a perfect template for Vera's highly talented design and construction team to transform this space into a 9000 square foot very cool youth arts and music venue.



The Vera Project
Address: Republican & Warren Ave N, Seattle, WA 98109
Tel: +1 206 956 8372
http://www.theveraproject.org该项目维拉
地址:Republican & Warren Ave N, Seattle, WA 98109
电话:+1 206 956 8372
http://www.theveraproject.org
<!- Rubicon OS Player --> <!- /Rubicon OS Player -->