art/design
エース・ホテル・シアトル
ACE HOTEL SEATTLE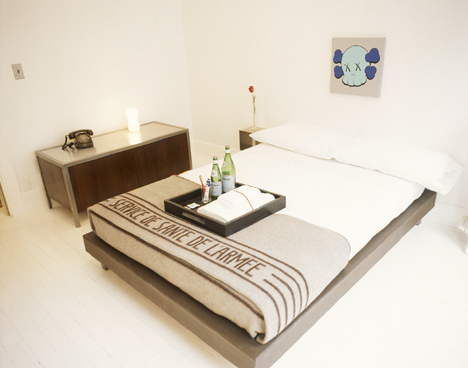 Seattle's leading design hotel, the Ace is how you want to travel- simple, stylish, and not too expensive. They offer all the comfort of a business class hotel without the soul-killing blandnessシアトルを代表するエース・ホテルはシンプルでスタイリッシュ、そのうえお手頃な値段で利用できるビジネスクラスのホテルである。歴史あるベルタウンビルはシアトルの真ん中に位置し、アートギャラリー、クラブ、バーなどにも気軽に行ける。



クラッシクな味わいを出しつつも、ヨーロッパ調をうまくマッチさせたモダンな作りをしており、ビジネス、レジャーどちらの用途にも合う。小さくて親しみやすいホテルで、それぞれの部屋がオリジナルなデザインになっており、シアトルを訪れたら、またエース・ホテルに泊まりたいという気分にさせてくれる。



ACE HOTEL SEATTLE
住所:2423 1st Avenue., Seattle, WA 98121
TEL:+1 206 448 4721
info@theacehotel.com
http://www.acehotel.com



Translation: Kazunari Hongo of a faceless chain or last year's design school fads. Their handsome accommodations combine modern lines with an eclectic sensibility, re-interpreting the classic flavor and affordability of European-style lodging. Their historic Belltown building is situated in the heart of downtown Seattle, within blocks of Pike Place Market and Seattle's ever-growing network of art galleries, clubs, bars, retail stores, and restaurants.



If you are like them – whether on business or pleasure- you are looking for more than just a room when you travel. The Ace is a small, intimate hotel that lets you feel like you are "somewhere" not just "anywhere."



Step into newly designed, modern, and fashionable hotel rooms. All of our rooms are unique. The rooms displayed are only a sample of the variety of rooms available. To have access to all of the different types, please call 206-448-4721 to make reservations.



ACE HOTEL SEATTLE
Address: 2423 1st Avenue., Seattle, WA 98121
Tel: +1 206 448 4721
info@theacehotel.com
http://www.acehotel.comACE酒店 西雅图
地址:2423 1st Avenue., Seattle, WA 98121
电话:+1 206 448 4721
info@theacehotel.com
http://www.acehotel.com
<!- Rubicon OS Player --> <!- /Rubicon OS Player -->