art/design
キャピタル・ヒル・アーツ・センター
Capitol Hill Arts Center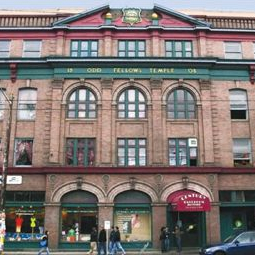 CHAC is a local hive for community creatives—be they artists or intellectuals. Whether it's food for the belly or food for the soul, CHAC has got it, all under one roof.「キャピタル・ヒル・アーツ・センター(CHAC)」は、クリエイティブな人のためのミーティング・ポイントである。CHACでは、お腹も心も満たされる食事を味わうことが出来る。地下では、エキサイティングなライブ、おいしいグルメ、カクテルも楽しめる。カフェのコーヒーを飲みに行くのもよし、あなたの次のライブ会場にするもよし。ほぼ毎晩CHACでは何かが起こっている。無線LANの利用も可。



Capitol Hill Arts Center
住所:1621 12th Avenue, Seattle, WA 98122
TEL:+1 206 388 0569
info@capitolhillarts.com
http://www.capitolhillarts.com Come for its exciting live performances, gourmet grub, or cocktails in the Lower Level. Cozy up to a cup of coffee in the cafe or rent space for your next event. From live local music to Seattle's best poetry, provoking performances to ambient nightlife, there's something brewing at CHAC nearly every night of the week. CHAC also offers free wireless access in each of its public spaces.



Capitol Hill Arts Center
Address: 1621 12th Avenue, Seattle, WA 98122
Tel: +1 206 388 0569
info@capitolhillarts.com
http://www.capitolhillarts.com国会山艺术中心
地址:1621 12th Avenue, Seattle, WA 98122
电话:+1 206 388 0569
info@capitolhillarts.com
http://www.capitolhillarts.com
<!- Rubicon OS Player --> <!- /Rubicon OS Player -->