art/design
Hokkaido Museum of Modern Art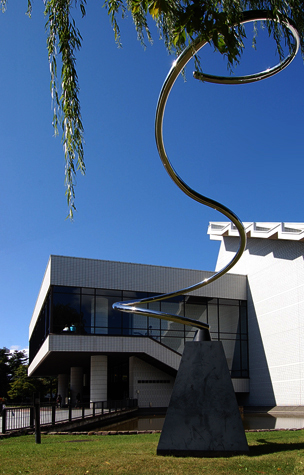 札幌市の中心部に位置し、そのアクセスの良さとバラエティに富んだ展覧会で、1977年7月のオープン以来、多くの道民に親しまれている「北海道立近代美術館」。国内外の優れた作品を展示する特別展とOpened in the center of Sapporo in July 1977, Hokkaido Museum of Modern Art has been familiar to people in Hokkaido with their accessibility and variety of genres of exhibitions、収蔵作品を中心に、さまざまな角度からテーマを設けて展示する「これくしょんぎゃらりい」(常設展)を開催している。



道立近代美術館では、北海道ゆかりの作家の美術作品をはじめ、アールヌーヴォーから近代までの国内外の優れたガラス工芸品、エコール・ド・パリを柱に幅広い観点から収集された作品の保存・展示・研究をはじめ、地域社会の芸術的土壌を育むという目的で、各種教育・情報サービスも積極的に展開している。



北海道らしい緑溢れる敷地内に建つ美術館は、美しい白壁と合掌造りをイメージさせる大屋根がひときわ印象的な外観。入館するとエントランスと2階ホールには安田侃や寺田栄の作品、1階ロビーにはブールデルの作品「力」を目にすることができる。



その美術館を囲む美しい前庭にもいくつか作品が展示されている。北海道出身の彫刻家・本郷新や山内壮夫の彫刻作品とともに、風や水で動く造形作品で国際的に活躍する新宮晋の「風の対話」「光のリズムII」や、札幌出身の伊藤隆道による「回転螺旋・1月」などのキネティック・アート(動く彫刻)が、ゆったりとした時を刻んでいる。



野外彫刻は一般開放となっていて開館時間内であれば無料で自由に出入りすることができる。美術館の隣りにある知事公館内の野外展示作品も一般公開されている。北海道の自然を楽しみながらゆっくりとアートの世界を散歩するのも良いだろう。



北海道立近代美術館
住所: 札幌市中央区北1条西17丁目
時間:9:30〜17:00(月曜定休)
TEL:011-644-6881
http://www.aurora-net.or.jp/art/dokinbi/



Text: Yui Shimomura. Since then, the museum has provided special exhibitions of highly esteemed works from the world, and the Collection Gallery showcased from their collections.



The museum preserve, display and research the artwork of collections including works of the local artist in Hokkaido, national and international glass crafts from Art Nouveau to the modern period and other wide variety of collections, in addition to explore a variety of educational and communicational services aiming to nurture local artistic platform.



In the green filled site, the museum is designed wtih the high-pitched roof and white walls. As you go inside, you can see Antoine Bourdelle's artwork displayed in the lobby and Kan Yasuda and Sakae Terada's works in the entrance and the hallway on the 2nd floor.



There showcases sculptural works displayed in the front garden of the museum, including works of Hokkaido-born suculptor Shin Hongo and Takeo Yamanouchi as well as kinetic sculptural works by Susumu Shingu and Sapporo-born Takamichi Ito.



You have a free access to see the ourdoor sculputure during the opening hours. There are more outdoor pieces open to the public in the site of Office for the Governor of Hokkaido, next to the museum.



Hokkaido Museum of Modern Art
Address: North 1 West 17, Chuo-ku, Sapporo
Open: 9:30-17:00 (Closed on Monday)
Tel: 011-644-6881
http://www.aurora-net.or.jp/art/dokinbi/



Text: Yui Shimomura
Translation: Mariko Takei北海道立近代美术馆
地址: 札幌市中央区北1条西17丁目
时间:9:30-17:00(周一收盘)
电话:011-644-6881
http://www.aurora-net.or.jp/art/dokinbi/