art/design
ヘッドランズ・アートセンター
Headlands Center for Arts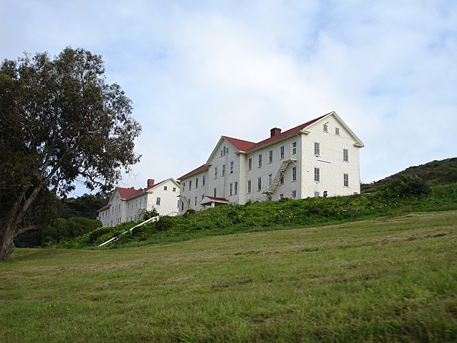 ゴールデンゲートブリッジの北側はまるで絵はがき。昔ながらのサンフランシスコの風景を求める観光客で賑わう。その観光客の後側には戦時中軍の練習場として利用された静かで穏やかな低地がある。The north side of the Golden Gate Bridge is a tourist mecca – classic San Francisco post card material. Just beyond the tourists there is a quiet and serene valley which was once used by the military during the world wars.今は公園として使われており、旧兵舎はアートセンターとして利用されている。



80年代後期にオープンしてから多くのアーティストを引きつけてきた「ヘッドランズ・アートセンター」。その魅力の一つは、どんな用途にも対応できるスペースで、年3回センター内に居住しているアーティストの作品を公開している。



ヘッドランズ・アートセンターの「プロジェクトスペース」では、日曜日から木曜日の12時から17時まで、居住アーティストの作品を一般公開している。また、公開講座やアーティストによる講義も主催している。



ヘッドランズ・アートセンター
住所:944 Fort Barry, Sausalito, San Francisco, CA 94965
開館時間:12:00〜17:00
休館日:金曜日、土曜日
TEL:+1 415 331 2787
info@headlands.org
http://www.headlands.org



Text and Photos: Ammon Haggerty from Qaswa
Translation: Nem Kienzle The land is now public park space and some of the old military barracks have been converted into an art center.



The art center, Headlands Center for the Arts, has attracted top artists since its inception in the late 1980s. Part of the appeal is the raw space, which seems to support nearly any intention. Three times a year the center opens its doors to show the work of current artist's in residence.



The Headlands Center for the Arts "Project Space" is open Sunday though Thursday from 0pm – 5pm where resident artist display working projects. The center also host public programs and artist talks.



Headlands Center for Arts
Address: 944 Fort Barry, Sausalito, San Francisco, CA 94965
Open: 12:00-17:00
Closed on Friday and Saturday
Tel: +1 415 331 2787
info@headlands.org
http://www.headlands.org



Text and Photos: Ammon Haggerty from Qaswa
<!- Rubicon OS Player --> <!- /Rubicon OS Player -->