art/design
111 ミナ・ギャラリー
111 Minna Gallery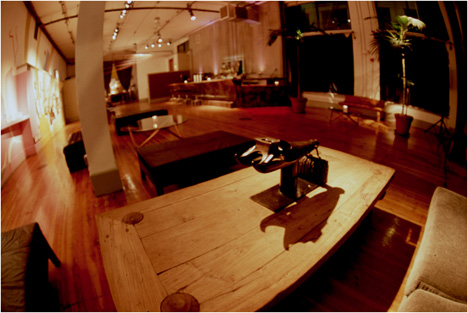 111 Minna is an art gallery/bar/nightclub in San Francisco. We've been here 10 years, serving up a unique atmosphere in which to enjoy art, music, film, drinks, and whatever else happens to be the celebration or occasion of the day or night.アート、音楽、映像、お酒など何でも楽しめるユニークな空間を提供する「111 ミナ・ギャラリー」は、サンフランシスコにあるアートギャラリー、バー、ナイトクラブである。
約5mの高さの天井に、セカンド・ストリートに面した床から天井まである窓、むき出しの配管と新しく張り替えられた木の床など、都市部の工業倉庫のようなの空間が印象的な効果を生む。
111 ミナ・ギャラリーは、サンフランシスコの都市部、ソマ地区の2番通り、ハワードとミッションの間にある。



111 Minna Gallery
住所:111 Minna Street, San Francisco, CA 94105
TEL:+415 974 1719
minna@111minnagallery.com
http://www.111minnagallery.com We are in the business of Art & Leisure.



The space at 111 Minna Gallery evokes the dramatic effect of an urban industrial warehouse with 16 feet high walls, floor to ceiling windows facing out on 2nd Street, exposed piping overhead and newly refinished hardwood floors.



The sophisticated modern design of the space is animated by a 25 foot long rolled steel and copper bar created by Bay Area sculptor Jud Bergeron, multifunctional theatrical lighting designed by Terry Ohm of Impact Lighting and an eclectic mix of modern and antique furnishings.



111 Minna Gallery transforms itself every 6 weeks with rotating exhibitions of contemporary art, providing an ever-changing, dynamic atmosphere. The L-shaped gallery measures over 4,200 square feet and can be divided into smaller, more intimate spaces and can accommodate groups of 75 to 500 people.



You can find 111 Minna gallery between Howard and Mission at 2nd Street in the SOMA district of downtown San Francisco, walking distance from the Moscone Center, Yerba Buena Gardens, SFMOMA and the Embarcadero.



111 Minna Gallery
Address: 111 Minna Street, San Francisco, CA 94105
Tel: +415 974 1719
minna@111minnagallery.com
http://www.111minnagallery.com111明娜画廊
地址:111 Minna Street, San Francisco, CA 94105
电话:+415 974 1719
minna@111minnagallery.com
http://www.111minnagallery.com
<!- Rubicon OS Player --> <!- /Rubicon OS Player -->