art/design
スーク
Souk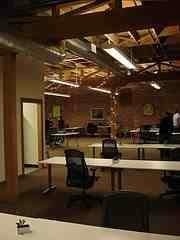 いつどのように働くか、生きるために働くということ。そんな仕事に対する理想を理解しているのがソークだ。souk understands the dream to say how and when you work – to work to live. souk presents flexible term office space and services, specially designed for individuals and small teams to create.ソークはフレキシブルに対応した期間にてオフィススペースやサービスを提供し、特に個人や小さなチームの制作のためにデザインされている。デスク、ユニークな会議室、コラボレーションゾーンなど、ソークのメンバーがブレインストーミングできる場所がある。ここで他のソークメンバーとビジネスの場を広げたり、アイデアを交換することも可能だ。



Souk
住所:322 NW 6th Avenue, suite 200, Portland, OR 97209
時間:9:00〜17:00(土・日曜定休)
TEL:+1 503 517 6900
info@soukllc.com
http://www.soukllc.com



Translation: Asami Miyamura In hot desks, unique meeting rooms and collaboration zones, souk members brainstorm, present or simply hunker down and work.



You never know who you might bump into at souk. Make valuable business contacts or bounce an idea off another member to crack that problem. Capitalize on many coordinated networking and learning opportunities.



souk believes space matters. Where and how you want to work has changed. souk acknowledges its set-up is different because the world demands it. With scarce natural resources, intense use of existing space is imperative. With technology breaking down borders and fueling mobility, collaborating, adapting and sharing are the future of work.



Souk
Address: 322 NW 6th Avenue, suite 200, Portland, OR 97209
Open: 9:00-17:00 (Closed on Sat&Sun)
Tel: +1 503 517 6900
info@soukllc.com
http://www.soukllc.comSouk
地址:322 NW 6th Avenue, suite 200, Portland, OR 97209
时间:9:00-17:00
休息日:星期六・星期日
电话:+1 503 517 6900
info@soukllc.com
http://www.soukllc.com

<!- Rubicon OS Player --> <!- /Rubicon OS Player -->