art/design
ヴァル・ド・マルヌ現代美術館(MAC/VAL)
MAC/VAL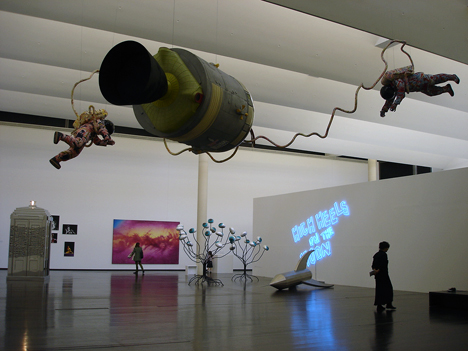 パリ郊外に建設された最初の現代美術館。2005年11月にヴィトリー市にオープンしたこの美術館は、県の文化政策の象徴的存在として、建築家、ジャック・リポーによってLocated on 20 000 m² of land in the town centre, the building of 13 000 m² comprises 4 000 m² of exhibitions spaces; 2 600 m² for permanent exhibitions and 1 350 m² dedicated to temporary exhibitions建設された。パリ市内からメトロ、それからバスへと乗り継いで到着したMAC/VAL前のバス停留所の横には、巨大なジャン・ドゥビュフェの彫刻が設置されている。



ヴィトリー・シュール・セーヌ市の中心に位置し、ジル・ヴェクスラーによって構想された1万平米にも及ぶ公園に囲まれたこの美術館は、フランスにおける1950年代から現在までに創造、制作された1000点以上の芸術作品を所蔵。



全2万平米の敷地のうち、1万3千平米に及ぶ館内では、4千平米が常設展と企画展にあてられ、他にも、造形美術だけではなく映画や音楽などの「アート」も体験できるように150席が確保できる映写室、子供から大人、また研究者にまで対応する現代アートとその歴史、そしてアーティストに関するマルチメディア閲覧室、ミュージアムショップ、レストラン、国内外に及ぶアーティストたちを迎えるためのレジデンスを含む。



MAC/VAL
住所:Place de la Liberation, 94400 Vitry-sur-Seine, Paris
時間:火〜日 12:00〜19:00/木曜 12:00〜21:00
TEL:+33 (0)1 4391 6420
http://www.macval.fr



Text and photos: Kana Sunayama. The museum's storerooms and maintenance workshops represent 1 700 m². The museum combines facilities that complement the exhibition spaces, each with its own specificity.



The 150 seat cinema is a cross-disciplinary space: a place where museum activity and temporary exhibitions can be accompanied through symposia, artists' interventions, video projections, documentaries… Programming linked to cinematographic art is also introduced, combining films on the history of this art and live music, seasons of film directors and thematic festivals.



The research centre of 480 m² has a collection of works on contemporary art, its history and artists available for consultation. The space comprises a research centre, separate reading rooms, a children's space, and of course multimedia stations and an audiovisual area accessible to all.



The availability of educational and cultural mediation spaces of 395 m² for groups is ensured by the museum's public services team. These spaces are divided into three studios. Free cultural and educational activities are a public service that goes hand in hand with the collection.



Two live-work apartments for artists-in-residence will provide accommodation for foreign artists for residencies of three to six months.



A bookshop, restaurant and car park complete the museum. Finally, a park of 10 000 m² designed by the landscape architect Gilles Vexlard also provides an open-air exhibition space.



MAC/VAL
Address: Place de la Liberation, 94400 Vitry-sur-Seine, Paris
Open: Tue-Sun 12:00-19:00 / Thursday 12:00-21:00
Tel: +33 (0)1 4391 6420
http://www.macval.frMAC/VAL
地址:Place de la Liberation, 94400 Vitry-sur-Seine, Paris
时间:周二至周日12:00-19:00/周四12:00-21:00
电话:+33 (0)1 4391 6420
http://www.macval.fr
<!- Rubicon OS Player --> <!- /Rubicon OS Player -->