art/design
ロモグラフィー・ショップ・パリ
Lomography Shop Paris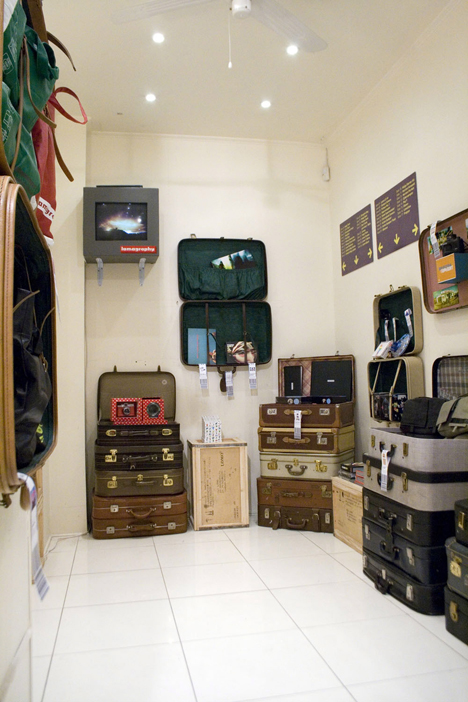 2008年、「ロモグラフィー」はフランスに向け舵を取り、パリの街に自分たちのギャラリーショップを構えた。そして、チャーミングなブティックに荷物を降ろした。そう、Lomography is taking course to France and landing its very own gallery shop in the city of Paris.そこでビジネスをしようとしているのだ。でも、彼らにとってはある種楽しみでもあり、ゲームでもある。



期間限定で「ロモグラフィー」がスーツケースの販売を行っている。



「ロモグラフィー・チェック・イン」は、パリのロモグラファー、アナログ写真のとりこになった人、そしてロモグラフィーの世界中の活動の拠点となるだろう。店内では、ビンテージ風にデザインされたスーツケースと厳選されたロモグラフィーが販売され、店内には数々の旅行にまつわる写真の展示も行われている。また、アナログ写真のイベントやワークショップなども開催されており、フィルムでとる写真の魅力や宇宙の美しさを味わうことが出来る。



Lomography Shop Paris
住所:6 Place Franz Liszt, 75010 Paris
時間:火〜土 10:30〜19:00
paris@lomography.com
http://www.lomography.com



Translation: Tatsuhiko Akutsu In a charming boutique right out of a time where style was born, Lomography put their luggage down and they mean business! But they also mean fun and game.



For a limited time only, Lomography will be: Selling out of Suitcases!



The Lomography Check-In! is to be a shopping experience and meeting point for Paris' Lomographers and all people rapt by the outrageous world of analogue photography and the activities of the worldwide platform of Lomography. Still trapped in paperwork, Parisian bureaucracy and never-ending Lomographic ideas, the space is designed around a temporary concept of transit. Almost entirely designed out of old luggage and offering a premium selection of Lomography products, the store also displays the biggest travel-themed LomoWall in the world! The Lomography Check-In will also be homeland to the regular Lomography events and workshops about analogue photography, lomographic tools and tricks, the charm of real film and the beauty of this spaceship earth.



Pack your bags and gear up for boarding; you are heart-warmingly invited to take the first scoop on what is en route to become the first Lomography Shop in Paris by spring 2008!



Lomography Shop Paris
Address: 6 Place Franz Liszt, 75010 Paris
Open: Tue-Sat 10:30-19:00
paris@lomography.com
http://www.lomography.comLomography 巴黎店
地址:6 Place Franz Liszt, 75010 Paris
时间:周二至周六 10:30-19:00
paris@lomography.com
http://www.lomography.com
<!- Rubicon OS Player --> <!- /Rubicon OS Player -->