music
ファンダンゴ
Fandango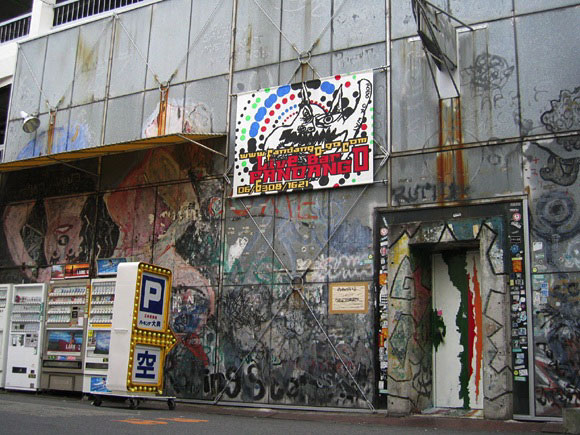 「LIVE BAR FANDANGO」のコンセプト音楽、芸術、それによって派生する文化の向上は、パフォーマンスをする人間、それを受け止め得る人間、Enter here for the best live rock, punk, heavy metal, noise, hardcore,alternative, slash and indie original music to be found in Osaka.そしてプロデュースをする人間の誰もが、同じ立場の上で"動ける"という状況から起こるのではないだろうか。アートは、そういった人間達が存在し集まって来る空間で、初めて呼吸する。



1987年、10月20日のオープン以来、"自由とオリジナリティー"をコンセプトとして、常にパワフル且つ素直な行動をし続けてきたFANDANGOは、 フレキシブルなアーティスト.ラインナップで、関西の新たなインディーズ、アート、シーンを構築して来ました。



ファンダンゴの営業時間は、18:00〜23:20です。開演時間は19:00からで終演は22:00迄です。
日によって開場/開演時間が異なる日もあるので詳しくはスケジュールで確認して下さい。
入場後は1ドリンクオーダー制となっています。



連日連夜、ノンジャンルで店員ともども盛り上がってます。
音楽好きな方、お酒が好きな方、野球が好きな方、釣りが好きな方、彼氏彼女を探してる人などなど、ガンガン遊びに来て下さい。
あっと言う間の3時間、ライブを通じて楽しみましょう!



Fandango
住所:大阪府大阪市淀川区十三本町1-17-27
時間:18:00〜23:20(月曜定休)
TEL:06-6308-1621
fandango@fandango-go.com
http://www.fandango-go.com Since October 20, 1987 the Live-House Fandango has built a new and independent art scene based on freedom and originality. We have been working hard with the single purpose of offering you a flexible line-up of artists from around Japan and the world. The varied approaches to new music offered at the Fandango makes the local music scene more interesting and lively.



Performers, audience and producers participate together to improve our cultural scene and make visual arts and music breathe with life at the Fandango. We encourage many music artists who suit the style of this space and have nutrured an intrest in all aspects of the art scene, visual, performance, and production.



FANDANGO is open 18: 00 – 23: 20. We are closed on Mondays. The shows usually start at 19:00 and end by 22:00. Opening & starting times is may vary according to the day , so please the schedule for details. There is a one drink minimum (500 yem) payable on entering Fandango.



We have so much fun everyday & night . Please come to Fandango for Music lover one, the one which likes the liquor, the one which likes the baseball, one and searching lover, like fishing etc. Please enjoy live sounds with us for 3 hours!



Fandango
Address: 1-17-27 Juso-Honmachi, Yodogawa-ku, Osaka
Open: 18:00-23:20
Tel: 06-6308-1621
fandango@fandango-go.com
http://www.fandango-go.comFandango
地址:大阪府大阪市淀川区十三本町1-17-27
时间:18:00-23:20
休息日:星期一
电话:06-6308-1621
fandango@fandango-go.com
http://www.fandango-go.com
<!- Rubicon OS Player --> <!- /Rubicon OS Player -->