art/design
CCO クリエイティブセンター大阪
Creative Center Osaka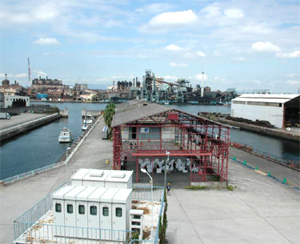 大阪市住之江区の木津川河口に位置する名村造船所跡地の広大な敷地を活用するため設立された、クリエイティブな活動をサポートする施設です。Creative Center Osaka supports various creative activities, it is located along estuary of Kizu river,造船所跡地という産業遺産に眠る<廃墟のポテンシャル>を最大限活かしたユニークな空間で、さまざまな「クリエイション」と「コミュニケーション」のための実験の場を提案します。
平成19年、名村造船所跡地は、経済産業省の「近代化産業遺産」に認定されました



CCO クリエイティブセンター大阪
住所:大阪市住之江区北加賀屋 4-1-55 名村造船跡地
時間:10:00〜19:00(火曜休館)
TEL:06-4702-7085
FAX:06-4702-7086
cco@namura.cc
http://www.namura.cc was built to utilize a huge space which used to be Namura Shipbuilding. We support various creative activities.



We make the most of the potential of ruin, industrial legacy to awake and to offer experimental place for creation and communication.



In 2007, the Namura Shipping site was authorized as modern industorial legacy of Ministry of Economy.



Creative Center Osaka
Address: Namurazousenatochi, 4-1-55 Kitakagaya, Suminoe-ku, Osaka
Open: 10:00-19:00 (Closed on Tuesday)
Tel: 06-4702-7085
cco@namura.cc
http://www.namura.ccCCO 创意中心大阪
地址:大阪市住之江区北加賀屋 4-1-55 名村造船跡地
时间:10:00-19:00
休息日:星期二
电话:06-4702-7085
cco@namura.cc
http://www.namura.cc
<!- Rubicon OS Player --> <!- /Rubicon OS Player -->