art/design
ソクラテス彫刻公園
Socrates Sculpture Park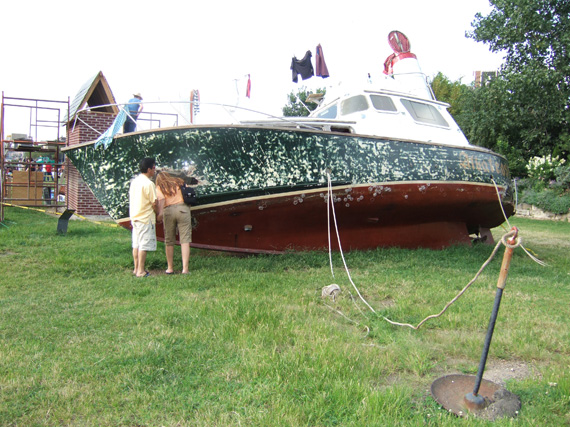 クイーンズにあるソクラテス彫刻公園は、1986年まで主に不法廃棄処分に使われ、放置されたままの土地だった。この公園周辺の地域は、ほとんど知られることのない産業建築物や自動車整備工場、まれにアパートなどの建物もある都会の荒廃地である。Until 1986 Socrates Sculpture Park was an abandoned strip of land in Queens that was used mainly for dumping illegal waste. The area surrounding the park is urban wasteland with mostly anonymous looking industrial buildings, auto workshops with the occasional apartment building.
1986年に、この荒廃した土地が地元のアーティストや住民の手によって、アーティストのための展示スペースや地元住民のための公園として生まれ変わった。今では、ここで定期的に野外イベントが開かれたり、彫刻作品も常設展示されている。



ここは大きな作品を作り展示できる機会をアーティストに提供することに専念している地域であり、ニューヨーク首都圏では唯一の場所としてそれに誇りを持つ、ユニークな所である。そしてさらに、ここは一年中市民に無料で開放されている。



一度は放置されてしまったこの場所が再利用され、アートを奨励するクリエイティブな活動の場として成功を遂げたことをこの公園の存在が証明している。



ソクラテス彫刻公園
住所:32-01 Vernon Blvd., Long Island City, NY 11106
時間:10:00〜日没まで(年中無休)
TEL:+1 718 956 1819
info@socratessculpturepark.org
http://www.socratessculpturepark.org



Text and photos: Garry Waller
Translation: Kyoko TachibanaIn 1986 a group of artists and local people from the community miraculously transformed the dump it into an exhibition venue for artists and as a park for local residents. Today it is exactly that and regularly hosts free outdoor events as well as having sculptures that are always on display .



It's quite a unique place and proudly boasts as being the only site in the New York Metropolitan area dedicated to providing artists with opportunities to create and exhibit large-scale work. On top of that it's open all year round to the public for free.



The Park's existence proves that recycling a strip of derelict land in New York can be achieved for greater good, promoting art and a creative place to see it at the same time.



Socrates Sculpture Park
Address: 32-01 Vernon Blvd., Long Island City, NY 11106
Open: 10:00-Sunset
Tel: +1 718 956 1819
info@socratessculpturepark.org
http://www.socratessculpturepark.org



Text and photos: Garry Waller苏格拉底雕塑公园
地址:32-01 Vernon Blvd., Long Island City, NY 11106
时间:10:00-到日落(每周7天)
电话:+1 718 956 1819
info@socratessculpturepark.org
http://www.socratessculpturepark.org
<!- Rubicon OS Player --> <!- /Rubicon OS Player -->