art/design
アドホック・ギャラリー
Ad Hoc Art gallery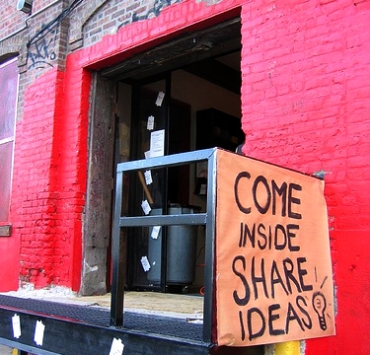 アドホック・アート(AHA)は、アートギャラリーとクリエイティブセンターが備わったギャラリー。ニューヨークのアートシーンとは違う視点で作品を展示する場としてAd Hoc Art (AHA) is an art gallery and creative center. Dedicated to showing work that is often marginalized by the larger New York art scene, AHA focuses on the areas of street art, pop surrealism, lowbrow, illustration, tattoo, print-making, as well as the larger history of underground art, activism, and graffiti.、ストリートアート、ポップシュールレアリズム、ローブラウ、イラストレーション、タトゥー、版画製作およびアンダーグラウンドアート、前衛的な芸術、行動主義とグラフィティにフォーカスしている。アドホックは情熱的で、制作に一途で、社会から分離された「ファインアート」の境界にチャレンジするアーティストのための場となっている。



Ad Hoc Art gallery
住所:49 Bogart Street, Brooklyn, NY 11206
時間:水〜日 13:00〜20:00(要問い合わせ)
TEL:+1 718 366 2466
info@adhocart.org
http://adhocart.org It is a venue for artists who are passionate, committed to their craft, and challenging the boundaries of a "Fine Art" isolated from society at large.



Artists whose work has graced the walls of Ad Hoc Art include: Swoon, BAST, AIKO, Judith Supine, Shepard Fairey, Blek Le Rat, Gaia, Imminent Disaster, Skewville, Chris Stain, Elbow Toe, Michael De Feo, Dan Witz, Billy Mode, Josh MacPhee, Bill Fick, Rafael Fuchs, Nevada Hill, Richard Mock, Michael Krueger, Dennis McNett, FA-Q, Kembra Pfahler, James Turek, Sean StarWars, Gore B, Visual Resistance, PMP and many others.



Ad Hoc Art is one of the primary efforts of Peripheral Media Projects (PMP), in addition to design and print work. The gallery space is adjacent to the PMP production studio off the Morgan Avenue "L" train – nestled in an area zoned the "East Williamsburg Industrial Park", amongst concrete factories, lumber yards, metal recyclers, and waves of creative-types looking for affordable live/work spaces.



Ad Hoc Art gallery
Address: 49 Bogart Street, Brooklyn, NY 11206
Open: Wed-Sun 13:00-20:00 and by appointment
Tel: +1 718 366 2466
info@adhocart.org
http://adhocart.org特设艺术画廊
地址:49 Bogart Street, Brooklyn, NY 11206
时间:星期三至星期日 13:00-20:00(联系要求)
电话:+1 718 366 2466
info@adhocart.org
http://adhocart.org
<!- Rubicon OS Player --> <!- /Rubicon OS Player -->