art/design
ポッコ・ギャラリー
Pocko gallery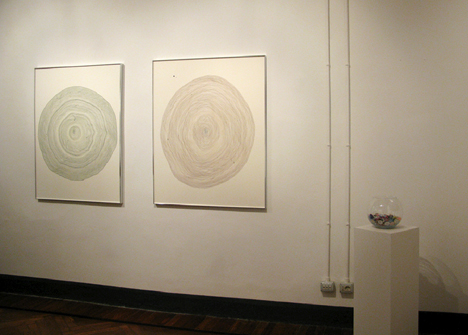 ポッコはニコラ・シュワルツにより1999年ロンドンに設立。オリジナルアイデアとプロジェクトの結果、現代アーティストや先進的ブランドとの連携により国際的にも知られる会社へと急速に発展した。Pocko was founded in 1999 in London by Nicola Schwartz. Thanks to original ideas and projects it has rapidly become an internationally known company working with contemporary artists and with forward thinking brands.
ポッコの初の革新的な第一歩となったのが、ポッコ・コレクションだ。様々なアーティストにより構成されたポケットサイズ本のシリーズで、出版とブランドコミュニケーションとの組み合わせの先駆けとなり、世界中から絶大な評価を得ている。
ポッコ・ギャラリーはポッコの最新のプロジェクト。コンテンポラリーカルチャーから受けることがらをテーマに展覧会などのプロジェクトを展開する。そのテーマは、アーティストが影響されるものの骨組みとして理解され、いくつかの提案を発展させていくこととなる。
2008年10月7日にオープンしたポッコ・ギャラリー初の展覧会のタイトルは「Let's make out(イチャイチャしよう)」。新たな始まりをアイデアに13名のアーティストによるオープニングが開催された。



Pocko gallery
住所:Via Ariosto 6, 20145 Milano
TEL:+39 02 48545701
gallery@pocko.com
http://www.pocko.com
Pocko's first ground-breaking initiative was the Pocko Collection, a series of pocket size books composed by different artists which were forerunners of combining publishing with brand communication and which received an overwhelming worldwide recognition.



Pocko's newest project is Pocko Gallery, conceived as a curatorial entity wich develops exhibition projects based around themes inspired by contemporary culture: these themes are meant as frameworks within which the artists can respond to, developing one or more proposals.
"Let's make out" (from october 7th to Novembre 20th, 2008) is the title of Pocko Gallery's first exhibition: 13 artists' works inspired by the idea of a new beginning.



Pocko gallery
Address: Via Ariosto 6, 20145 Milano
Tel: +39 02 48545701
gallery@pocko.com
http://www.pocko.comPocko画廊
地址:Via Ariosto 6, 20145 Milano
电话:+39 02 48545701
gallery@pocko.com
http://www.pocko.com
<!- Rubicon OS Player --> <!- /Rubicon OS Player -->