art/design
ラース
raas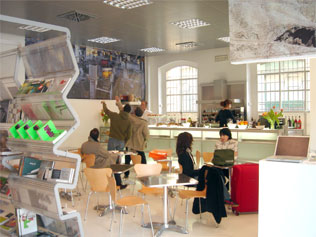 ラースは、ミラノとバルセロナにある「アクター」のブックストアとギャラリースペース。建築、グラフィックデザイン、写真に特化している。ラースがホスト役を務めるRAS is Actar's bookstore and gallery space in Barcelona and Milan. Combining gallery and bookshop, RAS specializes in architecture, graphic design and photographyことで、知名度を問わずに才能ある人にビジュアルアートの展示スペースを実験的に与え、出版物の著者と出会う機会を与えている。建築、デザイン、写真、アートなどの異なるメディアに対して、ソースをオープンにし、出版や展示の境界を継続的に行き来することで、その壁を取り払っている。



raas
住所:Via Pietrasanta 14, 20141 Milano
時間:月曜〜金曜 8:30〜20:00/土曜日 12:00〜20:00(日曜定休)
TEL:+39 02 30901414
info@raasgallery.it
http://www.raasgallery.it



Translation: Kazunari Hongo. It is the main bookshop for ACTA's titles as well as an international showcase of publications from illustrated book publishers worldwide.
An experimental space for exhibitions, RAS plays host to visual art displays by local and international creative talents, and brings to life the content of publications with author talks and events.
In this way, RAS dissolves and interrelates the different material practices – architecture, design, photography, art – by revealing these practices as sources of open, continuous dialogue crossing the boundaries of material production, publication, and exhibition.



raas
Address: Via Pietrasanta 14, 20141 Milano
Open: Mon-Fri 8:30-20:00 / Saturday 12:00-20:00 (Closed on Sunday)
Tel: +39 02 30901414
info@raasgallery.it
http://www.raasgallery.itRaas
地址:Via Pietrasanta 14, 20141 Milano
时间:星期一至星期五 8:30-20:00/星期六 12:00-20:00
休息日:星期日
电话:+39 02 30901414
info@raasgallery.it
http://www.raasgallery.it
<!- Rubicon OS Player --> <!- /Rubicon OS Player -->